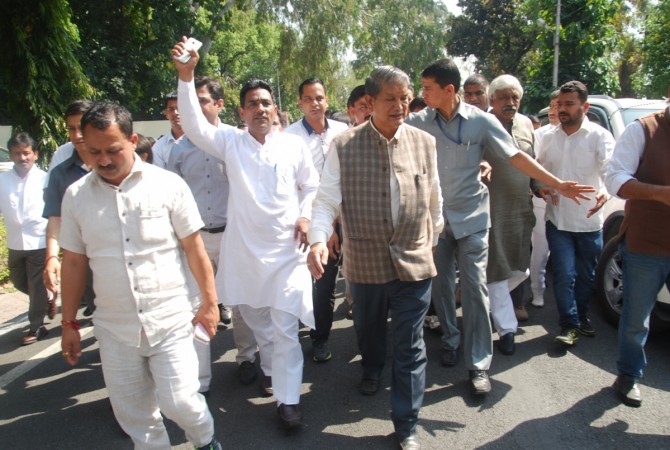 The Nainital High Court Tuesday stayed the President's rule in Uttarakhand imposed by Pranab Mukherjee Sunday on the recommendation of the Union Cabinet. The court has allowed the Congress party, led by former Chief Minister Harish Rawat, to prove the majority on the state Assembly floor.
The High Court was hearing Congress' plea challenging a central notification imposing President's rule in the state a day before Rawat was to prove his majority on the floor. The court has allowed a floor test in the Uttarakhand Assembly 11 a.m. Thursday, Asian News International reported.
The registrar general of the Nainital High Court will be present as an observer in the 70-member Assembly at the time of the floor test.
The nine rebel Congress MLAs, who were disqualified by Uttarakhand Speaker Govind Singh Kunjwal earlier this month, will also be allowed to vote for the floor test.
"Votes of disqualified MLAs will be kept separately for identification," ANI quoted Rawat's lawyer Abhishek Manu Singhvi as saying.
The central government proposed President's rule in the state, claiming there's a breakdown of the governance and that the Rawat-led state government was "unconstitutional" as it had passed a "failed" Appropriation Bill. The Congress had reportedly called the move "murder of democracy."
The decision was taken amid the political crisis that arose after nine Congress legislators rebelled against Rawat's government and reportedly threatened to form a government in the state with the support of the BJP.
Governor KK Paul had then asked Rawat to prove his party's majority on the floor of the House Monday. As President's rule was imposed a day before that, the Congress moved the high court challenging the Centre's proposal.
Votes of disqualified MLAs will be kept separately for identification: Abhishek Manu Singhv, Counsel for Harish Rawat

— ANI (@ANI_news) March 29, 2016