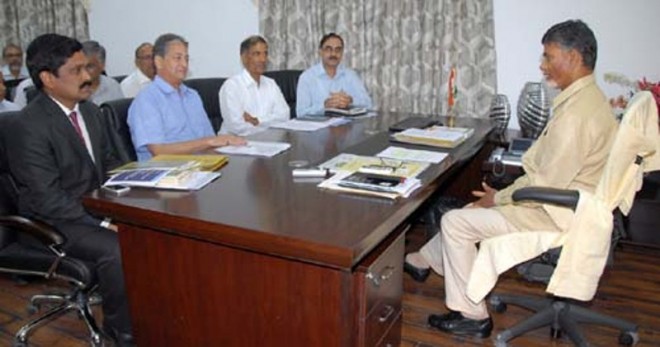 On the lines of Singapore port, Andhra Pradesh coast line should also be developed as a major port hub by utilising the Centre-announced Chennai-Visakhapatnam industrial corridor, Chief Minister N Chandrababu Naidu told the Union Shipping Secretary Viswa Prasad Trivedi on Thursday, 11 July.
The state government wanted to link all its coastline port centres including Visakhapatnam, Kalingapatnam, Machilipatnam, Kakinada, Dugarajapatnam, Ramayapatnam and develop them into full-fledged ports, Naidu said.
The Centre has announced Vizag-Chennai industrial corridor on Thursday. The proposed corridor runs along AP coast linking the port cities.
The government aims to develop the state's east coast as a home for vibrant ports. To achieve this, Naidu shared the proposal of setting up a Maritime Board with Trivedi, government sources said.
After carving of Telangana from united AP, the Centre had announced two industrial corridors for the residual AP and one is Chennai-Visakhapatnam industrial corridor and another is Chennai-Bangalore industrial corridor.
The Chennai-Vizag industrial corridor could be utilised well for development of AP coast, where all its port cities could be linked to the corridor. The corridor is expected to help AP modernise its ports, airports, roads and even the railway networks on the 800 km coastline.
The state government also has plans to set up gas pipelines and power transmission lines to supply fuel to the already existing industrial towns, new industrial hubs and special economic zones (SEZs) in the region.
Dugarajapatnam in Andhra Pradesh is one of the two new major ports the Union Finance Minister announced on Thursday and another being at Sagar in West Bengal. The Centre has estimated a cost of ₹7,988 crore to set up a major port in Dugarajapatnam.
Naidu wants to develop his state economically by developing the port cities into industrial hubs and trade centres. The government wanted to export the state's marine products, agricultural products, and minerals to other countries and develop the state economically, the state government sources said.
Meanwhile, in the Budget, Arun Jaitley has announced to develop AP's Kakinada region into a manufacturing hub of electronic and hardware components. Kakinada is a business centre and has India's biggest natural gas reserve in the Krishna-Godavari Basin.