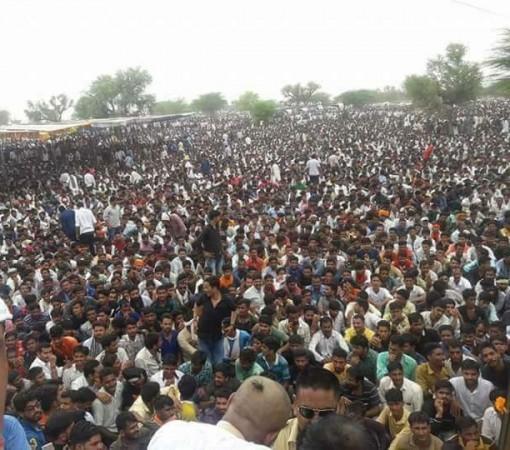 In Rajasthan's Nagaur district, the Rajput protesters demanding CBI enquiry into the encounter of gangster Anandpal Singh resorted to torching vehicles and attacking police personnel with stones.
In this unrest, a civilian was killed and 21 policemen were injured on Wednesday, said NDTV report. Also, the villagers have alleged that Anandpal Singh's encounter was staged.
Nagaur district has been experiencing a tense situation since June 24 when the gangster, who was on the run since September 2015, was shot down by the police in Malasar village in Churu.
A mob attacked the cops with stones and set a police vehicle and four buses on fire in Sanwarda village in Nagaur district during the late hours of Wednesday night.
The injured added up to 21 policemen included a senior police official, said additional director general of police (law and order) NRK Reddy to NDTV. Three policemen in critical condition were taken to a hospital in Jaipur.
The protesters had ruptured a section of railway tracks leading to the rerouting of rail traffic between Ladnu and Kuchaman section. The blocked railway track was reportedly cleared and agitators were removed from there.
The angry crowd had alleged that the police fired bullets at them. The police denied the allegations and said that they had fired rubber bullets to control the crowd.
Anandpal's family said that his death was a 'political conspiracy', reported NDTV.
The family is yet to cremate his body and have asked for permission to allow his brothers in judicial custody to attend the funeral, according to India Today report.
Watch the video of the several rajputs who assembled at Nagaur:
Here's another one: