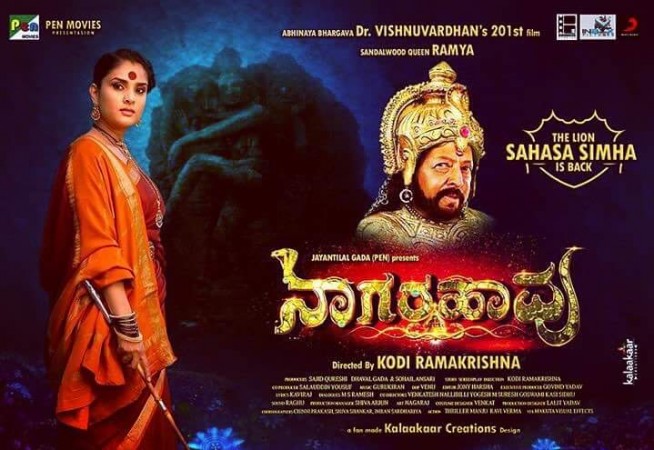 Ramya and Vishnuvardhan's epic-fantasy film Nagarahavu released on October 14. The Kannada movie has been accorded a grand welcome by fans of both the actors.
Nagarahavu is a special movie for the audience for two reasons – it is a comeback flick of Ramya and the second reason is late Vishnvuardhan's portion has been created through the digital head-replacement technology. Hence, the movie has managed to generate a lot of pre-release buzz around it.
The celebrities, many of whom are Vishnuvardhan fans, are also keen to watch Nagarahavu to see how the late actor has been brought to life on-screen and to understand the depth of the technology considered landmark in Indian films. Below, we bring you the best wishes posted by popular celebrities on Twitter:
Chiranjeevi Sarja: Wishing #Nagarahavu team all the best and #Respect to Vishnu mama... @DhruvaSarja @divyaspandana waiting to watch the film... #jai Hanuman..
Kichcha Sudeepa: Wishin #Nagarahaavu team all th best. it's surely a treat to all th die hard fans to see Sir Vishnuvardhan,th legend on silver screen again.
Darshan Thoogudeepa: Best Wishes to Vishnu Sir's #Nagarahavu team.Appreciate Producer for his sincere efforts.I am curious to watch our Idol on Big screen again
Siddharth: @divyaspandana all the best for the release today! Seeing the great Vishnuvardhan sir on screen again will be magical I'm sure. #Nagarahavu
HariPrriya: My best wishes 2 my fav @divyaspandana & team fr #Nagarahavu release Waiting 2 C u on screenSurely a festival fr Vishnu Sir & Ramya fans
Nagarahavu is written and directed by Kodi Ramakrishna of Arundhati fame. Ramya and Diganth are in the leads, while Vishnuvardhan will be seen for about 10 minutes in the movie, which has been released in Tamil as Shivanagam and Telugu as Nagabharanam.
Saikumar, Rajesh Vivek, Sadhu Kokila, Ravi Kale and Rangayana Raghu, among others are also in the cast. Challenging Star Darshan has done a cameo in the flick.
The film has Gurukiran's music, HC Venu's cinematography and Jhony Harsha's editing.