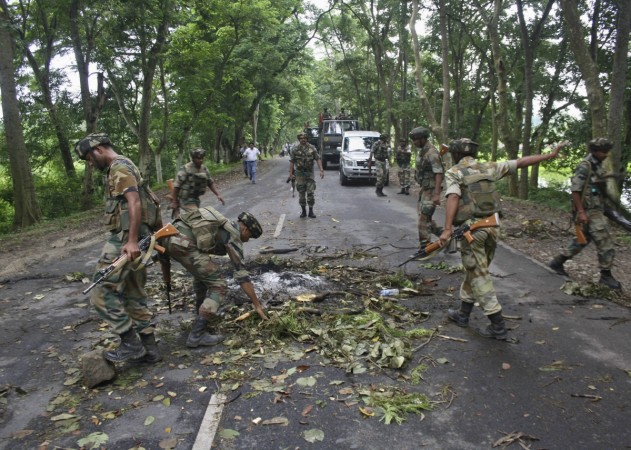 Armed group National Socialist Council of Nagaland (NSCN-K) claimed on Friday that it killed five to six commandos who had entered Myanmar to attack them. Officials in Nagaland have reportedly said that at least 30 Army commandos had exchanged gunfire with the SS Khaplang faction of the NSCN-K on Friday inside Myanmar borders.
"The gunfight took place beyond Thorloi, a village in Myanmar two kilometre from the border. They had no casualty and I don't know if the NSCN-K suffered any loss," Mon district superintendent of police Yangba Konyak was quoted as saying by Hindustan Times.
"I myself have seen the commandos when they returned. There were around 30 of them, which makes a platoon," he said. "I don't know of casualties, if any, on the side of NSCN-K," he added.
The NSCN-K has denied entering Myanmar as well as the casualties. The Army said the gunfight took place within Indian borders.
The 12 Para commandos had intruded one-and-a-half-hour-long walking distance into Myanmar. Five to six commandos were gunned down," the NSCN-K told New Indian Express in an emailed statement.
The advancing commandos were pinned down and the rest ran helter-skelter. The dispersed commandos tried to regroup but were forced to retreat," the NSCN-K told Hindustan Times.
The two sides began exchanging fire around 3 am on Friday and it went on for more than two hours. There were no casualties on the Indian side, said officials in Mon district.
Shots fired at insurgents group, who ran back into Myanmar. No casuality (dead/injured) ascertained: Army Sources — ANI (@ANI_news) August 20, 2016
A similar incident had taken place in 2015, when some Indian officials claimed that the Indian Army killed NSCN-K militants inside the Myanmar border. However, later they retracted and said that the militants were killed inside the Indian territory. The ambush was in retaliation to the NSCN-K killing 18 Indian commandos in one of the deadliest attacks in years.