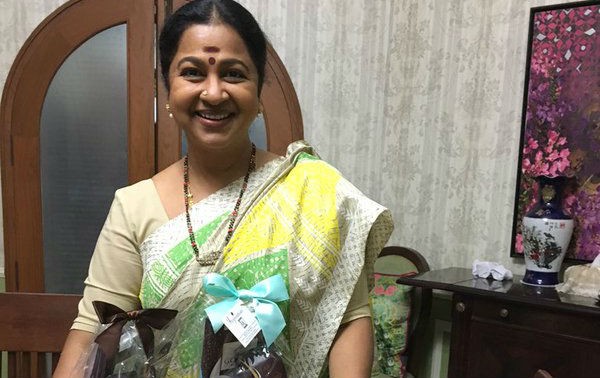 Radikaa Sarathkumar has taken on Nadigar Sangam office bearers like Vishal (secretary) and Karthi (treasurer) after her husband Sarathkumar and brother Radha Ravi, along with Vagai Chandrasekhar, were suspended from the actors' guild for alleged financial irregularities.
The actress tweeted, "The witch hunt starts in NadigarSangam @VishalKOfficial accusations started with 100cr now diacounted amt, no explanation 2 where discrepancy. [sic]" She added, "2- no explanation, no clarification, just taken off membership, the need nw is fr more mature &seasoned ppl. @VishalKOfficial @Karthi_Offl. [sic]"
Radikaa Sarathkumar says that the Nadigar Sangam officer bearers are making accusations without proof. She claims, "Wht is the final end??? Just accusations without proof. Can u erase the bitterness.grow up boys @Karthi_Offl @VishalKOfficial. [sic]"
"Boys @VishalKOfficial @Karthi_Offl suspend me for questioning, [sic]" the actress concludes.
Sarathkumar was the president of the Nadigar Sangam between 2006 and 2015. After being chosen unopposed for three tenures, he was defeated by Nassar. The new administration, as promised in its manifesto, conducted a detailed audit for the past six years and allegedly found financial irregularities.
Sarathkumar, Radha Ravi and Vagai Chandrasekhar are being accused of misappropriating funds to the tune of Rs. 1.65 crore.