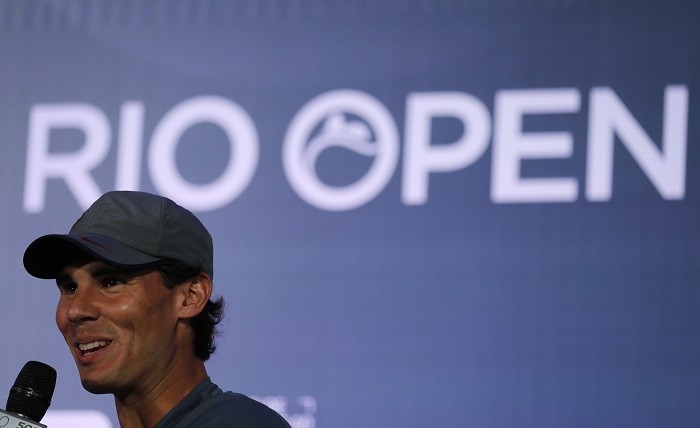 Rafael Nadal entered the second round of the Rio Open on Tuesday night, defeating Daniel Gimeno-Traver 6-3, 7-5. This was Nadal's comeback match, after his injury-hit Australian Open final loss to Stanislas Wawrinka last month.
Nadal shrugged off a sore back and took on countryman Traver confidently, despite some early trouble. The crowd favourite was trailing 0-2 early on in the second set but he came back and broke Traver in the 11th game, and served to win the set.
"Daniel is a specialist on clay, so for me it was a great match after so much time off after the final in Australia because of the back problems," Nadal said. "I practiced very little. So I was happy to get back, and get back with a victory. I'm happy to be back in competition."
Nadal will face compatriot Albert Montanes in the next round. Other seeded players who advanced on Tuesday are no. 3 Fabio Fognini, no. 4 Tommy Robredo, no. 7 Juan Monaco and no. 8 Pablo Andujar.
Speaking of Nadal's win, Fognini said: "For Rio, for the Brazilian people, for everybody it's nice because he's No. 1 in the world. For the tournament, especially because it's the first year, I think it will help."
Meanwhile, no. 5 Nicholas Almagro and no.6 Marcel Granollers were eliminated in the first round.
As Nadal tries to stay fit and be available to fight in all championships that come his way this year, the player's fans and pundits are keeping an eye on his record. The 27-year-old is just four Grand Slams short of Roger Federer's all-time record of 17 and just short of Pete Samprass' 14.
Watching the Spaniard in action in the Australian Open last month, Samprass told BBC: "He's incredible."
"The movement he has is incredible, he is able to adjust his shots on the run, I've just never seen anything like it.
"He's tough, he's mentally tough, and he has the whole package. He's not looking at 14 [grand slams], he's looking beyond. Realistically he could well get to 17 or 18 majors when it's all said and done. He's a great credit to the sport."
However, Nadal himself is not sure if he can match or surpass Federer's record.
"I don't know if I'm able to reach Federer's record of 17 Grand Slams," Tennis World quoted the world no. 1.