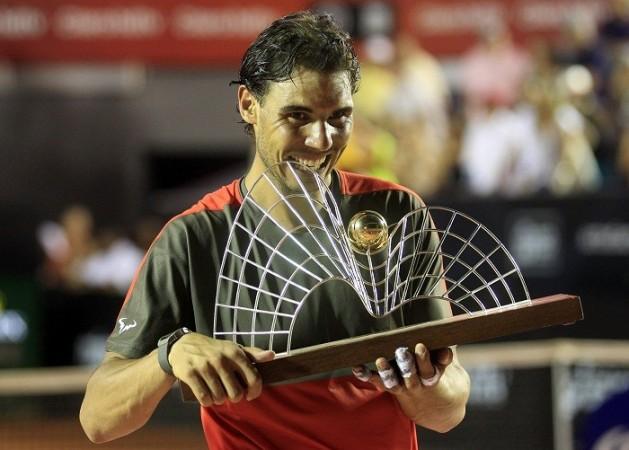 The world no. 1 Rafael Nadal won the Rio Open title defeating Ukraine's Alexandr Dolgopolov in straight sets 6-3, 7-6 (3). The win comes four weeks after losing to Stanislas Wawrinka in Australia thanks to a back injury.
In Rio, Nadal proved to be the master of clay again extending his record to 298 wins on the clay courts with only 21 losses. The champion player likes to look at the future rather than past debacles and hence declined to comment on his injury.
"Clearly, it was important for me to get back and win after what happened in the final in Australia," Nadal told reporters after the win.
Nadal chose the Rio Open for his comeback as he'll be looking forward to winning his second gold in the Olympics in 2016. "I leave with the sensation that Brazil is something special for me," the Spaniard said.
"In a 500 tournament, you don't have a chance to play a lot of these in the calendar. The first edition of a big tournament like Rio, it's a very important city in the world, and after coming back from injury, it always makes the victory a little more special."
Nadal said he was really put to the test in the semifinals against compatriot Pablo Andujar on Saturday. "Yesterday was a tough match," he added. "Pablo played a great match, playing very aggressive. I played too short yesterday and I gave him the chance to have control of the point from inside.
"I'm not very happy with the way I played yesterday, but I think today [Sunday] I was able to play with a little bit more calm, play a little bit longer and go a little bit more for the points. I played a more solid match today."
Doglopov had reached his first ATP tour final since October 2012, and he and his team were quite happy to have made it to the summit clash. "He was playing more solid than when I watched him play yesterday," Doglopov commented on Nadal's final performance.
"The stats were pretty impressive from him. As usual, he was spinning his forehand, making a lot of trouble to hit flat and couldn't really get used to his serve much - only at the end of the match. But I'm quite happy with the week."
In the women's section, the 62nd ranked Japanese player Kurumi Nara won her first WTA title defeating Czech Republic's Klara Zakopalova 6-1, 4-6, 6-1.
"I love Rio," said Nara, who will shoot up to the top 50 in world rankings after her win. "I can't believe I won the tournament, but I am very happy. I don't want to think too much about being No. 1 in Japan. I just want to focus on my game - every game."