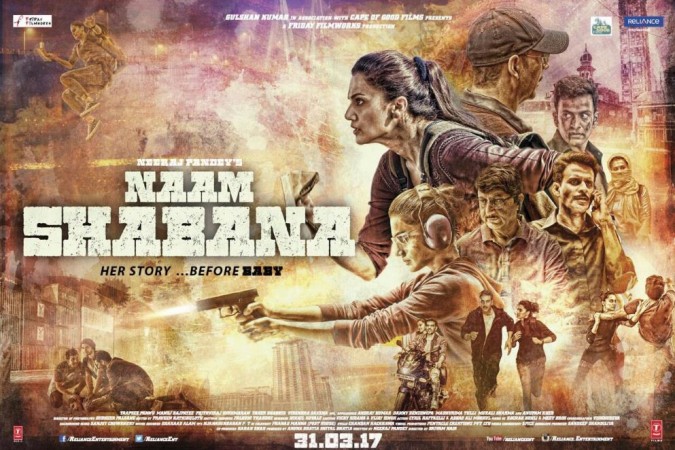 Taapsee Pannu's movie Naam Shabana will hit theatres on Friday, March 31, and ahead of the release, the makers had organised a special screening for the industry people. The movie has impressed critics and celebrities, who gave a thumbs up for the brilliant performances and script.
Celebrities like Satish Kaushik, Vishwas Paandya, Saqib Saleem, Elli Avaram, Anupam Kher, Ragini Khanna, Patralekhaa, Vicky Kaushal, Jacky Bhagnani, Angad Bedi, Norah Fatehi, Anubhav Sinha and Saurabh Shukla attended the screening.
Anupam Kher, who plays a key role in Naam Shabana, heaped praise on co-star Taapsee, claiming that she is the hero and the heroine of the film.
Directed by Shivam Nair, Naam Shabana is the spin-off Akshay's Baby, which also starred Taapsee and Anupam. It is the first spin-off in Indian cinema.
A major section of critics have said that Taapsee left a impression in her short role in Baby than a full-fledged lead role Naam Shabana. Except for the performances, the story, songs aren't interesting enough. Also, the first and the second halves of the movie are quite contrasting.
Naam Shabana is an action spy-thriller and will see Taapsee reprising her role as Shabana. Manoj Bajpayee, Anupam and South star Prithviraj Sukumaran play key roles in the film. Akshay Kumar has an extended cameo in the film.
Here are the Naam Shabana movie review by Bollywood critics:
Meena Iyer of the Times of India said: "Blame this prequel on the media. Most critics who saw Neeraj Pandey's action-drama, Baby (2015) praised agent, Shabana's cameo in it. Her brisk action-sequence in a Kathmandu hotel room, when accompanying Ajay Singh (Akshay Kumar) on a mission, provided the required adrenaline-rush. Taking the praise to their heart, this time around, the makers dedicated 148 mins, (really?) to the spunky agent. Sorry, but the running time is the film's first inherent flaw. Frankly, Shabana shone in Baby because she was in a cameo. Someone missed the point, guys."
Shubhra Gupta of Indian Express said: "Except for a few stray sequences in which the limber Taapsee Pannu goes after the bad guys, and the ones in which co-star Akshay Kumar moves in to demonstrate how the big boys do it, there is nothing either novel or interesting about the film. Many of the characters show up from Pandey's Baby (2015) including Pannu's Shabana who had bit part; Naam Shabana tells us just how she came to be a special agent skilled with her hands. Pannu left an impression in that brief role. Here, she gets a role many leading ladies would kill for, and she makes us believe it is her doing the action, not a body double, but she is strangely held in, and strictly one-note. Did she get stymied by the demands of her part, or was she instructed to keep her aspect closed, leaving her much too stiff?"
Bollywood Hungama: "On the whole, NAAM SHABANA is a well-made thriller with two contrasting storylines in the film's two halves playing the spoilsport. As for the performances, it's the immaculate and spotless performance of Taapsee Pannu who steals the show. However, given the strong brand value of BABY, decent interest quotient and lack of opposition at the Box-Office, will work out to be a huge advantage for the film. At the Box-Office, it will do decent to good business."
Rohit Bhatnagar of Deccan Chronicle said: "Neeraj Pandey must have thought that Taapsee Pannu's current status in the industry might work for the film but fails to impress in every possible way. Taapsee Pannu is the knight in shining armour of the film. It is so good to see her breaking bones and kicking butts so effortlessly. Her power packed performance in the film is an answer to those who considered her a lesser talent early on."
Sreeju Sudhakaran of Bollywood Life said: "Naam Shabana is like two movies rolled into one. While the first half shows how Shabana gets into the secret service program, the second half focuses on the mission in Malaysia. This could not have been a bad thing if the second half hadn't completely alienated the events of the first half, and even ignoring to some extent, Shabana herself. The songs are plain average and a complete hindrance to the narrative, while the editing needed to be much crisper. Watch Naam Shabana purely for Taapsee Pannu's fine performance and Akshay Kumar's enjoyable cameo, and also if you loved Baby too much. Just don't go into theatre expecting another quality stuff like Baby, even if the movie forces us to draw comparisons."
Kunal Guha of Mumbai Mirror said: "Like slurping on your favourite soda, Naam Shabana goes down easy as the spy thriller is reassuringly familiar. But it lacks distinct flavour and nourishment as it borrows from several films. The spoon-fed style of storytelling ensures you are never dazzled or confused and every reveal is tiringly repeated, simplified and spelt out. Taapsee Pannu, who surprised many with her high-voltage performance in last year's gritty courtroom drama Pink, couldn't have gotten a bigger solo break to showcase her potential. She nails every blow and the ones she endures seem like she's earned them."
Below are the Naam Shabana movie review by Bollywood celebs:
Filmmaker Vishwas Paandya: "#NaamShabana brilliantly executed by #ShivamNair @taapsee excels w @BajpayeeManoj @akshaykumar @AnupamPkher A winner from @neerajpofficial"
Anupam Kher: "Saw #NaamShabana. BRILLIANT.!!! @taapsee take a bow. You are the #Hero and the #Heroin Of the film."
Actor Saqib Saleem: "Stellar performances by all in this well made film!! @taapsee you have punched n kicked it out of the park!!#NaamTaapsee #NaamShabana"
Jakky Bhagnani: "Saw #NaamShabana and @taapsee was terrific ! So proud of you ! @akshaykumar as always comes and just owns the space bRILLIANT !! #mustwatch"
Stay tuned for more updates.