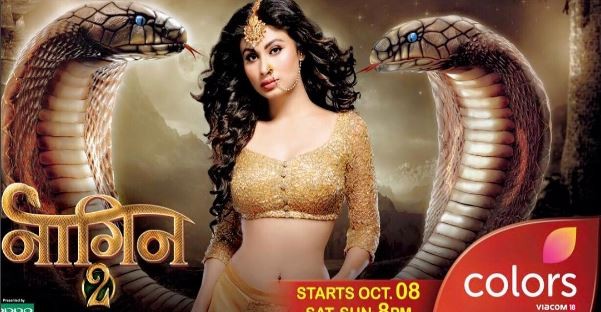 The second season of Ekta Kapoor's super successful show Naagin, starring Mouni Roy, Adaa Khan and Karanvir Bohra, telecast its first episode on Saturday, October 8 from 8 pm to 9pm on Colors channel. The first episode of Naagin 2 managed to attract 25.1million television viewers, according to data International Business Times, India received from ZAPR.
Although Naagin 2 initially opened with comparatively low unique views, the viewership gradually increased and reached its peak (17.8 million views) between 8:15 pm and 8:30 pm. It dropped to a certain extent towards the end of the show (11million views) between 8:45 pm to 9 pm.
The first episode of Naagin 2 faced tough competition from other shows, which were also aired on the channel during weekends. Coming to the geographic distribution of the viewers of Naagin 2, Uttar Pradesh stands tall with 4.3million of total viewership, followed by Maharashtra with 2.4million. Other states where Naagin 2 was viewed the most are Rajasthan with 1.9million views, Gujarat (1.8million views), Punjab (1.6million views), Haryana and Madhya Pradesh 1.5million viewership each, Delhi, Andhra Pradesh and West Bengal with 1.4million, 1.2million and 1.1 million views, respectively.
With Naagin 2 pulling a viewership of 25.1million viewership for its first episode, it appears that the show will eventually turn out to be as successful as Naagin, which was widely watched by the masses throughout the season.
Naagin 2 has Mouni playing a double role, one of mother (Shivanya) and the other of her daughter (Shivangi). Karanvir will be romancing the daughter. In the premiere episode, Shivanya was seen giving birth to a baby girl Shivangi, after which the show took a time jump. Post leap, Shivanya was seen worrying about Shivangi's well-being and wished that her daughter never turns into a naagin.