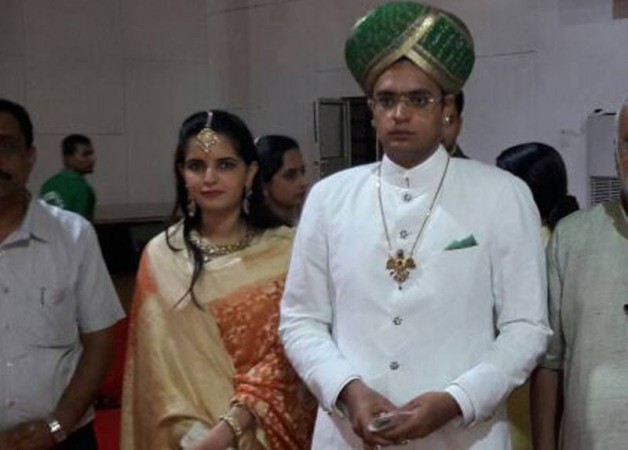 "King" Yaduveer Krishnadatta Chamaraja Wadiyar of Mysore's Wadiyar dynasty on Monday tied the knot with Trishika Kumari Singh of the Dungarpur royal family in Rajasthan.
According to NDTV, 24-year-old Yaduveer, who studied in Boston, married the Rajasthan royalty during the auspicious Karkataka lagna at the Kalyana Mantapa of the iconic Amba Vilas Palace in Mysore on Monday morning.
Trishika Kumari Singh is the second daughter of Maharaja Kumar Harshvardhan Singh and Rajkumari Maheshree Kumari of the Dungarpur royal family of Rajasthan, the Hindu reported. The marriage rituals had begun two days ago while the couple was scheduled to tie the knot between 9:05 a.m. and 9:35 a.m. on Monday, as decided by the palace priests. The palace will be closed for tourists till June 29.
The rituals included Yaduveer performing "pada puja" of "Rajaguru" Bramhatantra Parakala mutt seer Abhinava Vageesha Brahmatantra Swatantra Swami, NDTV reported.
Almost 1,000 guests, including Chief Minister Siddaramaiah and his Cabinet colleagues, diplomats from consulates of several countries, and erstwhile royal families from across the country were invited for the marriage ceremonies. The wedding reception will be held at the Mysore and Bengaluru palaces on June 28 and July 2, respectively.
Yaduveer Gopal Raj Urs had been formally adopted by Pramoda Devi Wadiyar, widow of Srikantadatta Narasimharaja Wadiyar who was the last descendant of the dynasty, in February last year because the couple had no children, NDTV reported. He was rechristened Yaduveer Krishnadatta Chamaraja Wadiyar after the adoption and was crowned the 27th scion of the Wadiyar dynasty on May 28 last year. He had ascended the golden throne during Dasara to preside over the "khasa (private) durbar.
Yaduveer has completed his Bachelor of Arts in Economics and English from Boston University in the US. He is the grandson of Princess Gayatri Devi, the eldest daughter of the last Maharaja Jayachamarajendra Wadiyar.