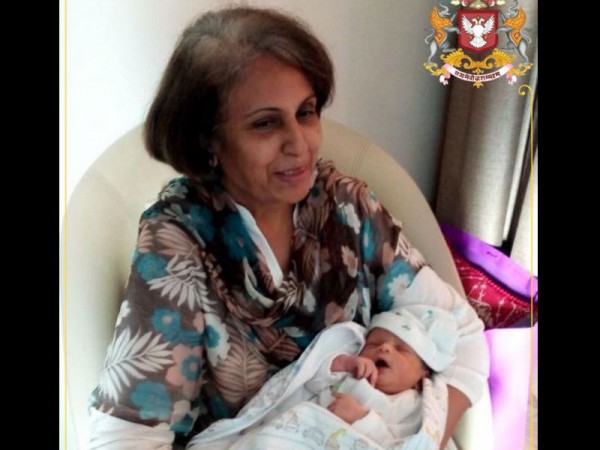 Mysuru's royal family is on cloud nine after Yaduveer Krishnadatta Chamaraja Wadiyar and Trishika Kumari welcomed their first baby. Hours after the news was out, a few photos were doing the rounds on social media claiming to be the first pictures of the newborn.
The snaps spread like wildfire on the internet on messaging platforms like WhatsApp. Later, it turned out to be fake.
Now, Yaduveer himself has revealed the picture of the baby on his Facebook account. "Very Happy to share this picture of Rajmata Pramoda Devi along with her grandson, The Yuvaraja. [sic]" He said and posted the picture.
Trishika gave birth to the baby boy at 9.32 pm on Wednesday, December 6 at Cloud Nine Hospitals in Bengaluru. A report on Deccan Chronicle cites the baby to have born in 'Punarvasu nakshathra' as per the Hindu astrology. This is the birth nakshatra of Lord Rama.
"I am very pleased to announce the birth of my son and I cannot put in words the excitement I feel on being a father. I would like to thank the people of Karnataka and all our well-wishers for their blessings and prayers. It has meant a lot to us through this period and we seek their blessings as we move forward," Yaduveer told media.
This is the first baby to be born in the royal family after 54 years.
The 27th scion of the royal family, Yaduveer Krishnadatta Chamaraja Wadiyar, married to Trishika Kumari Singh, who belongs to the royal family of Dungarpur and is the daughter of Harshavardhan Singh and Maheshri Kumari, in June 2016.
He is the adopted son of Rani Pramoda Devi.
Has the curse come to an end?
Legend has it that Alamelamma, the wife of a Vijayanagara king, had cursed the kings of Mysuru not to have heirs before she committed suicide by jumping into the Cauvery river in the year 1399. Thereafter, many kings were childless or died young.
The adopted sons have children, while those children were not blessed with kids. So, the debate over whether the curse has come to an end or not will arise a few decades later when the newborn ties the knot.