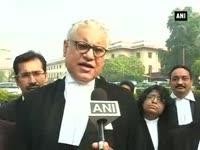 A court hall in Mysuru remained closed for nine months in the fear that the room is haunted, after the judge who was holding a case in the room died in an accident last year. Now, agitated members of the Mysore bar Association demanded an inquiry into the matter.
Around 90 lawyers from the Mysore Bar Association, in a press note, condemned the issue and said the rumour about the judge's ghost haunting the hall was unfortunate.
"We held the judge who functioned out of this hall in high esteem; some mischief-mongers are making efforts to sully the deceased judge's name," stated the press note, The Times Of India reports.
The deceased judge had reportedly lost his life in a road accident last year. He was in the midst of a case which was being held in what is now addressed as the "ghost room". Residents of Mysuru refer the locked hall, located below the district judge's hall, as a "ghost room".
The hall, located at the entrance of the court premises where the First additional sessions judge was housed and many important cases were read out before the judge's death, had been converted into a store room. It is now stacked with broken chairs and tables.
Since May 2014, the hall remained locked, fueling the rumour of the deceased judge's ghost haunting the room.
Sources say an astrologer had advised that the hall be kept locked until special pujas are held to free the place from dark spirits.
Senior lawyers said they could not find any rational reason behind the court hall remaining locked for so long. "Rumours are rife, but I don't know the reason for its closure," said Medappa, a senior lawyer.
Meanwhile, Mysuru district court administrator TC Nagaraju refused to make any comment on the matter.