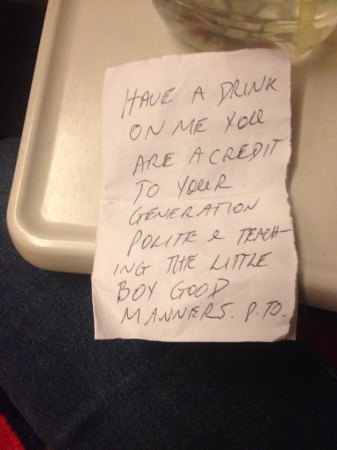 Recently, a heart-warming gesture by an Englishman made headlines across the world.
Ken Saunders, 50, had left a note and £5 for a young mother on a train, while travelling from Birmingham New Street to Plymouth, at Bristol Parkway on Thursday evening.
Saunders observed how single mother Samantha Welch was trying her best to teach good manners to her three-year-old son Rylan. He said that Welch was a "credit to her generation".
Belonging to Brinkworth, Wiltshire, Saunders is a father of one and stays with his partner of 16 years, and her four sons.
The note read: "Have a drink on me. You are a credit to your generation, polite and teaching the little boy good manners.
P.S. I have a daughter your age... Hope when she has children she is as good a mother as you!"
He signed it off with "man on the train at table with glasses and hat. Have a lovely evening."
Saunders had told Welch that she had dropped something before he handed her the note and by the time the young mother realized what had happened, he had left.
Welch took to Facebook to try and find Saunders so she could personally thank him.
Saunders' partner, while reading the newspaper, asked him: "That's you, isn't it?"
Saunders – who is a project manager for the NHS – said that Rylan had reminded him of his own daughter, Romani, when she was younger. Romani is 20 now.
Rylan is like any other child of his age who likes playing games and listening to music.
"I got on the train and there was this really lovely little boy and his mother. He was boisterous, playful - it reminded me of my daughter back in the day. He coughed and she said 'cover your mouth'. He said 'what?' and she said 'say pardon'. It made such a change compared to the maligned young people of today. It was really touching to see her teaching him correct manners. It was a really crowded train but she made room for a man to sit down. That really touched me," he told Daily Mail.
He thinks Welch is a "great role model". "There's loads of nice people out there and I think people should be reminded of that. I'm not special."
He further said: "It's really nice but it's something that my family do. They generally do this sort of thing. They all think it's nice to have a positive story in the news. It does illustrate that for all the bad news there is, there's also some nice news."