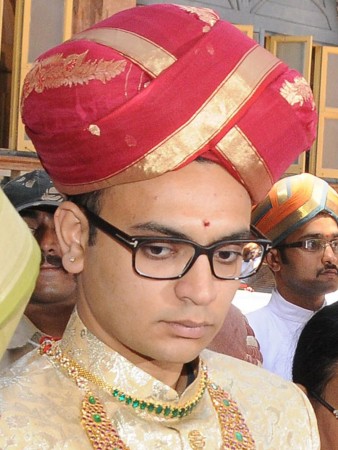 After a grand coronation ceremony on Thursday, the Mysore Palace will get its new and 27th titular King, Yaduveer Krishna Datta Chamaraja Wadiyar, who was adopted by the widow of the last scion Srikanta Datta Narasimharaja Wadiyar Pramoda Devi Wadiyar, as her son earlier this year.
Everything about coronation
"Yaduveer Krishna Datta Chamaraja Wadiyar will be crowned on May 28 in Karkataka Lagna between 9.25am and 10.38 am," Pramoda Devi said during a press meet at Amba Vilas Palace (Mysore Palace), State of Mysore reports.
Coronation Ceremony of Yaduveer Wadiyar as 'Maharaja' of Mysore Underway at Palace [PHOTOS]
The rituals for the coronation of the Maharaja of Mysore (renamed Mysuru) have already begun at the grand palace of Mysore in Karnataka. The rituals for the crowning of Wadiyars' heir began on Wednesday (27 May) morning and will go until evening.
At least 40 priests have been invited to perform the special rituals for the coronation of Yaduveer, which will be carried out at Kalyana Mantap and Durbar Hall of the Palace.
On Thursday, several rituals, including Lakshminarayana homa and Umamaheshwari homa, will be performed. Thereafter, special pujas will be conducted in all 16 temples in the Palace premises beginning with the puja of Ganapathy idol at the residence, at around 3 pm.
After this, Yaduveer will be seated on the Silver Throne of the Palace of Mysore, which will be witnessed by over 1,500 members of the royal family from across the country, besides several dignitaries and Karnataka Chief Minister Siddaramaiah.
The coronation ceremony also requires an elephant, for which the erstwhile royal family has written to the Forest Department asking to provide a 57-year-old calm natured Balarama to perform the role of Pattada Aane, Deccan Herald reported.
After all the rituals have been performed, Yaduveer will make his first public appearance as the King of Mysore and greet people from the balcony of the Palace, which will be specially illuminated on 28 May from 6 pm onwards to mark the coronation. He is then likely to take a tour of the Palace.
Speaking at the press conference about his coronation, Yaduveer said that he was proud and delighted and will maintain the traditions of the Wadiyar family.
He also expressed his willingness to fulfil the desire of late Srikanta Datta Narasimharaja Wadiyar who wanted a boost in tourism and sports in the city. But before all that, Yaduveer will complete his higher studies, for which he will leave for the US after Dasara festivities this year.
No Entry in Palace for two days
In the wake of ongoing coronation ceremony, entry to the Palace has been closed for tourists and other visitors on 27 and 28 May, SoM reports.
Who is Yaduveer Krishna Datta Chamaraja Wadiyar
Yaduveer was known as Yaduveer Gopal Raj Urs before Pramoda Devi adopted him as the heir of the erstwhile royal family on 23 February this year and rechristened him as Yaduveer Krishnadatta Chamaraja Wadiyar.
Pramoda Devi, widow of last titular King of Mysore Srikanta Datta Narasimharaja, adopted Yaduveer as the couple had no children of their own. Yaduveer will now succeed his late great-uncle Srikantadatta Narasimharaja, who died of a cardiac arrest on 10 December, 2013.
Yaduveer is the grandson of Princess Gayatri Devi, daughter of the last ruling King of Mysore dynasty Jayachamarajendra Wadiyar Bahadur.
He is pursuing BA in Economics and English at Boston University in the United States. He arrived in India for his adoption ceremony in February and will be leaving for the US to finish his studies after Dasara festival this year.