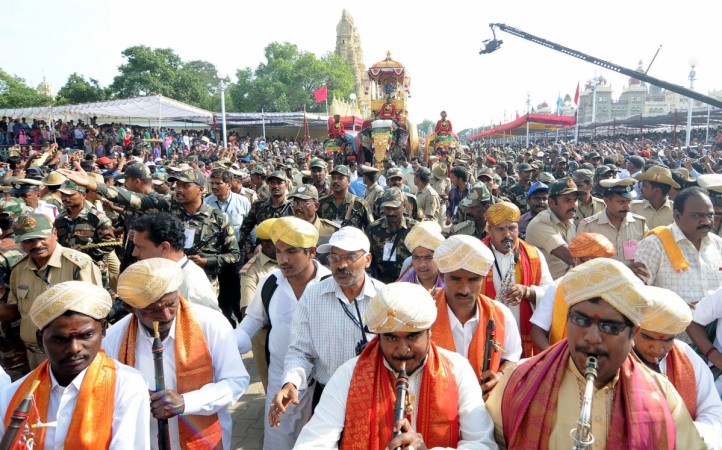 An unintended, but likely impact of the ongoing violent protests over the Cauvery river water-sharing dispute between Karnataka and Tamil Nadu could be the 10-day Mysore Dasara festival celebrations, set to commence on Oct. 2. The event is a big draw for tourists, both domestic and foreign, giving an opportunity to Karnataka to showcase its cultural heritage.
Mandya, which is about 35 km from Mysuru (Mysore), has been witnessing violent protests over the Supreme Court-mandated release of water from Cauvery river for almost a week now, with the latest wave of protests staged at Mandya railway station on Thursday.
The protests were held by the outfit Karnataka Rakshana Vedike against the apex court's order directing Karnataka to release 12,000 cusecs of Cauvery water to Tamil Nadu until Sept. 20.
Mandya falls between Bengaluru (Bangalore) and Mysuru (Mysore) and is therefore key for smooth movement of vehicles during the event that dates back to more than four centuries, this year's celebrations being the 406th edition. Visitors from Tamil Nadu and Kerala account for about 50 percent of the arrivals to Mysuru, especially during the Dasara (Dussehra) celebrations, according to the Deccan Chronicle.
"We are keeping our fingers crossed hoping the Cauvery stir will end soon so that the economy of Mysuru improves," PV Giri, the owner of a hotel chain across south India including Mysuru, told the daily.
Meanwhile, woes of people in the two states are far from over, with traders and farmers' organisations in neighbouring Tamil Nadu calling for a bandh on Friday to protest against attacks on Tamils in Karnataka. The call has got support from various political parties, including the DMK.
The estimated business loss due to disruption of commercial and other services over the Cauvery dispute was pegged in the range of Rs. 22,000 to Rs. 25,000 crore by industry body, the Associated Chambers of Commerce and Industry in India (Assocham).
""The way the violent incidents had spread is demoralising the business and industrial community, particularly in the capital city of Karnataka. The image that India built around Bengaluru as its 'Silicon Valley' is being sullied," DS Rawat, secretary general, Assocham, said in a statement.