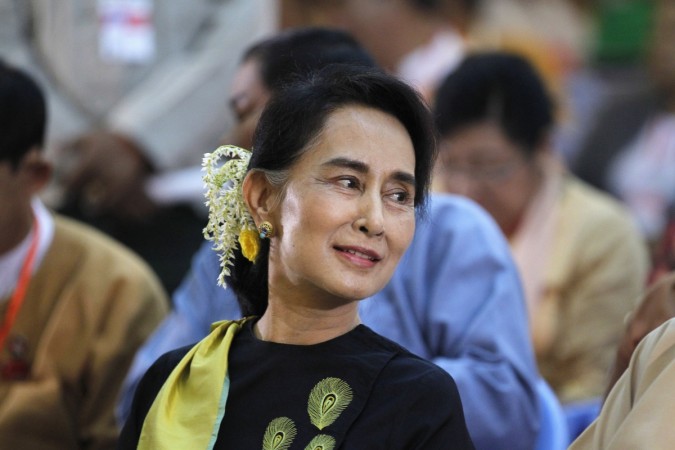 Aung San Suu Kyi's party is said to be in talks with Myanmar's powerful military to scrap a constitutional hurdle that is keeping the leader from becoming the next president even after her party came to majority power in recent elections.
The names of the new president and two vice presidents are expected to be announced on 17 March, after Myanmar Parliament Chairman Mann Win Khaing called for the names of candidates for the posts to be submitted before the date, according to The Associated Press.
While Suu Kyi's National League for Democracy (NLD) party came to power with a thumping majority in both houses of parliament after last November's elections, she is barred from becoming the president as she was married to a British man and her children are not Myanmar citizens.
In a bid to remove the section 59(f) of the constitution that puts down the limitation, the NLD is believed to be pushing for a deal with the military to suspend the constitutional provision in return for important posts, according to The Myanmar Times.
Pro-government television channels also reported that the talks between the two sides are likely to bring "positive results." If the clause is indeed suspended, it will pave the way for Aung San Suu Kyi to take the most powerful position in the country as the president after years of house arrest by the military.
However, a military lawmaker dismissed reports of such discussions.
"There is no discussing between the military and NLD about Article 59 (f)," Brigadier General Tin San Naing, spokesman of the military caucus in Myanmar's parliament, told Reuters, adding that the clause was meant to "to protect our people from foreign invasion."
While Suu Kyi's party had won 80 percent of electable seats in the elections, the military still constitutionally reserves 25 percent of the seats in parliament and also holds control over the powerful ministries for defence and home affairs.
Suspension of the constitutional provision will require more than 75 percent votes in parliament, which is why the military's approval is important if Suu Kyi is to take charge as president. However, the Nobel Peace Prize winner had said that even if she was stopped from taking the post, she would still be "above the president."