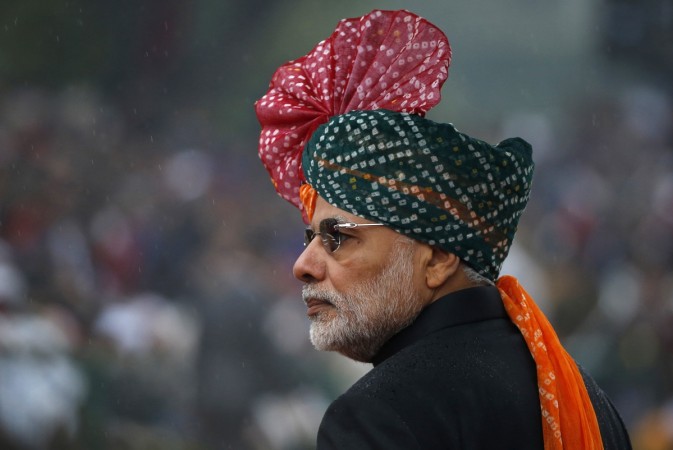 That Prime Minister Narendra Modi is fashion conscious is public knowledge by now. Still, it's interesting to know what the man himself feels about it.
His biography written by Lance Price, former adviser to British PM Tony Blair when he was in office, reveals that 63-year-old Modi perceives his sense of style as divine gift.
"God has gifted me the sense of mixing and matching colours. So I manage everything on my own," Modi is quoted as saying by Price in his book titled "The Modi Effect: Inside Narendra Modi's Campaign to Transform India."
The man, under whose leadership the BJP won a landslide victory in the general elections last year, further says: "Since I'm God gifted I fit well in everything. I have no fashion designer but I'm happy to hear that I dress well."
The book was written by Price after meeting Modi many times at his official residence in New Delhi after the elections last year, The Wall Street Journal reports.
The hand-made, half-sleeved Nehru style kurta, Modi is often seen wearing, has become a trend among many Indians and even internationally, says Price. "... a short-sleeved version of the traditional round-necked kurta, have become an internationally sought-after brand."
The story behind the half-sleeved Modi Kurta is nothing out of the ordinary, he didn't make someone design for him, but it was discovered out of his "way of making life easier before he was famous and was just a nomad travelling the country with a small bag," Price writes, as he traces the humble origin of the kurta, quoting Modi.
"I had to wash my own clothes. So I thought my shirt occupied too much effort in washing and space too. I cut the sleeves myself. So my shirt became half sleeved. I have been wearing such clothes for over twenty-five years. Yes, I like to dress up well and stay clean," Price quotes Modi in one of the book's chapter titled "Brand Modi".
The British author says how Modi's looks, which are far from being ideal from a fashion viewpoint, have ended up being admired by one and all.
"A man in his mid-sixties with glasses, grey hair and a beard is not everybody's idea of a fashion icon. But it is one of the many apparent contradictions that make Modi so unusual that this self-proclaimed 'man of the people' is as fashion conscious as any leader on the world stage. Even the New York Times fashion blog has been moved to note that 'Mr Modi stands out. Literally and strategically.'"
Though, it's a different matter that Modi received flak for his pinstripe suit embroidered with his full name – Narendra Damodardas Modi – that he wore during US President Barack Obama's visit to New Delhi in January this year, prompting some to say that it smacked of narcissism.
In his book, Price also analyses the other defining aspects of Modi, especially how the former Gujarat Chief Minister leveraged social media to reach out to millions of tech-savvy young Indians.
Lance Price, a former adviser to Tony Blair when he was prime minister of the United Kingdom