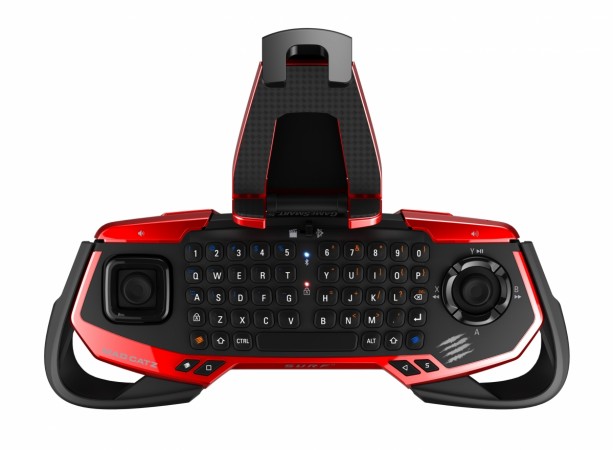 Mad Catz Interactive Inc. has announced two new wireless media and game controllers for smartphones. Designed to integrate seamless gaming experience, both the products made their debut at MobileFocus Global 2015 in Barcelona and is on display at Mobile World Congress, 2015.
The S.U.R.F.R is a Bluetooth device designed to control any Android running gadget, hence the controller is compatible with Android smartphones, Tablets, Android TV and Android powered media devices like Amazon Fire TV. Apart from this, the console can also be connected with home theatre PC's.
Featuring a full QWERTY Keyboard and mouse capabilities along with integrated media controls, the S.U.R.F.R makes it easy to surf the web, navigate media, and stay connected via text or social media. And when you're ready to play a game, the S.U.R.F.R delivers true gamepad control with action buttons positioned around dual analog thumb sticks.
Four buttons positioned on the left thumb stick mimic D-pad control, while buttons on the right serve as the traditional four action buttons commonly found on console-style controllers. This unique configuration allows the controller to remain compact, yet highly ergonomic during use.
L.Y.N.X., the entry-level smartphone game controller, is designed for performance-hungry gamers. The console is able to deliver all necessary features of a full-sized console-style game controller that folds up during travel to an extremely compact footprint.
Both the products feature a removable smartphone clip for docking a smartphone when on the move and a full complement of analog thumbsticks, action buttons and trigger controls. In addition, gamers can download the companion L.Y.N.X. app which will unlock additional functionality and keep gamers up to date with compatible software.