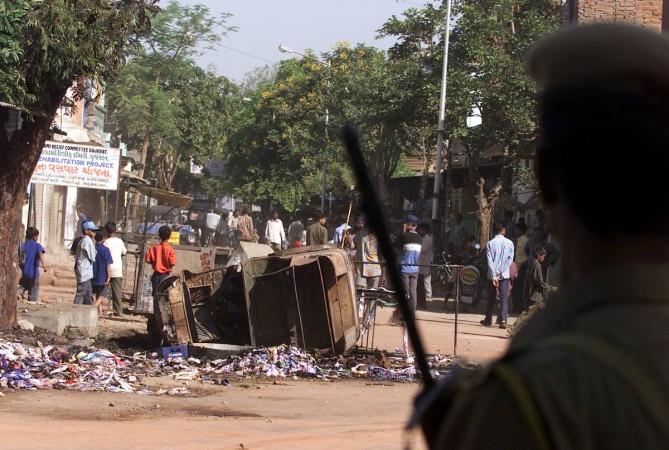 The Bihar police have arrested 14 people after three residents were charred to death by a mob that burnt down over 25 houses of a minority community in Muzaffarpur district of Bihar on Sunday.
"Fourteen people have been arrested in connection with the arson. The situation in the village is under control," Muzaffarnagar DM Anupam Kumar told The Times of India.
At least 400 policemen, including 40 police officers, have been stationed across the affected areas to control the situation, which is said to be tense even now.
Violence erupted between two rival groups, Sahnis and a minority community, at Bhelwara Roopnath near Azizpur chowk under Saraiya police station on Sunday when a Sahni youth Bhartendu Kumar's body was recovered from a field owned by one Shafaquat Ali.
On learning about the death of Kumar, his family and neighbours attacked the houses of the minority group to which Ali belonged and burnt down over 20 houses killing three people.
Situation worsened when the news of Kumar having eloped with a girl from the minority community spread. Soon after they eloped, both families started blaming each other, which further led to a clash.
The police have arrested Ali as the state Chief Minister Jitan Ram Manjhi on Sunday ordered probe into the incident.
"The two-member inquiry team will be headed by state's principal secretary (home) Sudhir Kumar, while ADG (headquarters) Gupteshwar Pandey will be the other member. The team will visit the trouble-torn village and submit its report to the government as early as possible," Manjhi said in a statement issued in Patna on Sunday evening.
The Bihar government has declared a compensation of ₹5 lakh for the families of those killed in the communal clash. Additionally, those who lost their homes in the fire have been promised a compensation of ₹1 lakh, while ₹42,000 each will be given to 57 families who were living in the houses.