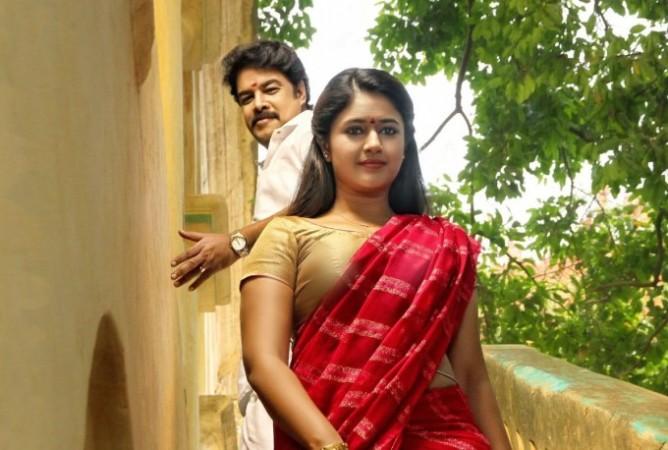 Sundar C's "Muthina Kathirikai" released on Friday, June 17. It is written and directed by Venkat Raghavan.
Poonam Bajwa has paired up with Sundar C in "Muthina Kathirikai." Vaibhav, Sathish, Kiran Rathod, VTV Ganesh, Singampuli, Ravi Mariya, Sumithra, Jayaprakash and others are in the cast. The movie has Siddharth Vipin's music, Bhanu Murugan's cinematography and NB Srikanth's editing.
"Muthina Kathirikai" is set in a rural backdrop. It is a remake of Malayalam hit movie "Vellimoonga," which had Biju Menon and Nikki Galrani in the leads.
40-year old Muthupandi (Sundar C)'s struggle to find a suitable girl for marriage ends after he fell in love with Maya (Poonam Bajwa). She is a 20-year old and happens to be the daughter of his ex-crush (Kiran).
Her father had issues with Muthupandi and this becomes a hurdle for the couple's relationship. On the other hand, elections are announced and he is set to contest against his rivals Bullet Marudhu (VTV Ganesh) and Vanjinathan (Singampuli). What happens next should be seen on-screen.
Reviews:
Here, we bring to you the audience response to the movie:
Vignesh Kandaswamy: #MuthinaKathirika - Interval - Barring very few comedies, poor so far. Neither entertaining nor fresh. Hoping for a turnaround in 2nd half.
#MuthinaKathirika - Interval - Lots of comedians but the comedy is missing in most places. Already seen comedies in some scenes.
#MuthinaKathirika - @actorsathish better of the lot so far. Sundar C okay. @bajwa_poonam purely used for glamour. #Interval
#MuthinaKathirika - Sundar C knows the pulse of commercial audience, whether it is directing or acting @khushsundar
#MuthinaKathirika - Scenes between Sundar. C and Kiran Rathod makes you think how Censors are working. U certificate is a wonder.
#MuthinaKathirika - Amateurish first half with a okay 2nd half saved by the last 30 mins which was entertaining. Very average (2.5/5)
Manigandan KR: #MuthinaKathirika is a carefree, fun-filled political entertainer that is reasonably good.
Shankar Ganesh: #MuthinaKathirikai is fun to watch.....
From start to end ...comedy da...#MuthinaKathirikai
Family audience will like it. From start to end ...comedy da...#MuthinaKathirikai
Claythoughts: Oneline Review #MuthinaKathirika Sundar.C branded movie. Entertainer 2 chillaxing. @bajwa_poonam @actorsathish.
First Day First Show: #MuthinaKathirika - Going good so far. A laugh riot. Expecting a good 2nd half. #SundarC @actorsathish combo works out. @bajwa_poonam Hot.
#MuthinaKathirika - @bajwa_poonam Looks hit & done her part wel.VTVGanesh &SingamPuli comedy scenes were a laugh relief. #YogiBabu cameo gud
Common Man Sathish: #MuthinaKathitika - Life of a rural based politician & unmarried 40 years old Sundar C is portrayed with all the commercial ingredients
Kollywood Cinema: #MuthinaKathirika [3/5] @bajwa_poonam did a good job. #VTVGanesh timing comedy is good. #Singampuli #Yogibabu done a decent job
Supporting characters are really worked out very well @actorsathish rocked in rural comedy also. congrats bro
#MuthinaKathirika [3/5] Good Comedy Entertainment from #Venkat #SundarC Rocked once again in comedy Political Dialogue delivery are awesome