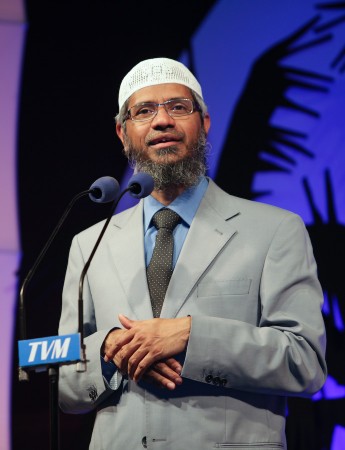 Islamic preacher Zakir Naik must be prosecuted for "promoting enmity between religious groups," the Muslims for Secularism and Democracy (MSD) group has said on Wednesday. It said Naik's ideology was similar to that of the Islamic State group and other terrorist organisations.
MSD also said that Naik's speeches, which hail terrorist Osama Bin Laden as the "fighter of enemies of Islam" also call upon all Muslims to be terrorists and "anti-social elements". This could prove to be toxic for young Indians and Muslims worldwide.
"Gullible young Muslims get drawn to him believing that he knows a lot about various religions, and to the way he manufactures his ideas to people. He is dressed well and there is ostentatious display in his television programme. It attracts people and I call it peddling a gateway drug to a highway of terror," Javed Anand, MSD member, was quoted by the Hindu as saying. Naik's channel, Peace TV spreads prejudice for other religions, he added.
MSD showed videos of Naik "spreading prejudice, if not contempt and hate for other religions". The group also asked the media to let agencies investigate his terrorist links, if there are any.
The video footage showed Naik propagating to the youth that religions except Islam must not be preached, DNA reported. He is seen telling a youth that "Merry Xmas" is blasphemy and that women should not wear short clothes if they wish to avoid harassment. The video also endorses a ban on music.
"He is insulting other religions. Tomorrow he will say not say Mubarak during Diwali and other festivals. Chopping of hands is being banned in Islamic countries and he probably does not know what is happening there. He has still not clearly said that Osama was a terrorist when everyone in the world has said the same. Saying that worship spaces of other faiths should not exist, he is being nothing but a hypocrite," Firoze Mithiborwala, secular activist and MSD member, was quoted by DNA as saying.