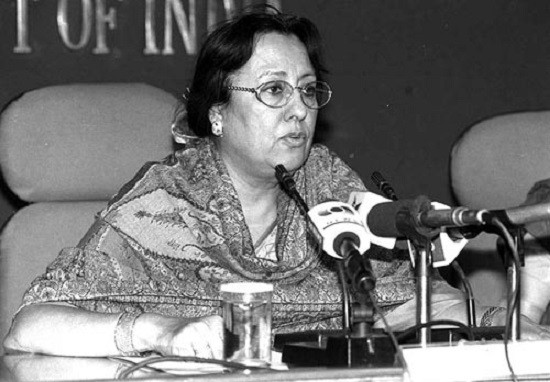 Minority affairs minister Najma Heptullah, the senior most member of the Narendra Modi cabiet, has come under heavy criticism from several quarters over her remark that Parsis are the minorities in India, not Muslims.
Heptulla, who took charge as the Minority affairs minister on Wednesday, stated that Muslims are too many in number to be called a minority and insisted that it is the Parsis who need special attention, for they are a "minuscule minority".
"So far as my ministry is concerned, of the six minority communities the weakest is clearly the Parsis. They are a minuscule minority... who need special attention. Muslims really are too large in number to be called a minority community," The Indian Express quoted the minister.
Heptullah, the grand-niece of prominent freedom fighter Maulana Abul Kalam Azad who was also India's first education minister, ruled out granting any reservations to Muslims but stated that the new government would continue the existing welfare programmes for minorities.
"Reservation on the basis of religion is not permissible under the Constitution. Nor is it the solution. It kills the spirit of competition," she said.
Heptulla has come under criticism from several quarters for her comment. The Communist Party of India (Marxist) stressed that Heptulla's statement reflected a 'wrong viewpoint,' which can harm the existing reservation policy for Muslims.
The Karnataka State Minorities Educational Institute Management Federation has even slapped a legal notice on the Minority affairs minister, asking for an apology and withdrawal of her statement.
The Bangalore Mirror reported that the legal notice states that the remarks by Heptulla was in conflict to her oath of office and the constitution. The notice has also sought that the minister should withdraw her statement that Muslims are not minorities.
The notice also warns that the federation will file a complaint before the President for Heptulla's violation of oath of office.
Reports also pointed out that Heptulla's statement was in line with the stance of her grand-uncle Azad, education Minister in the Jawaharlal Nehru cabinet, who had vehemently opposed partition and saw Indian Muslims as India's second majority.