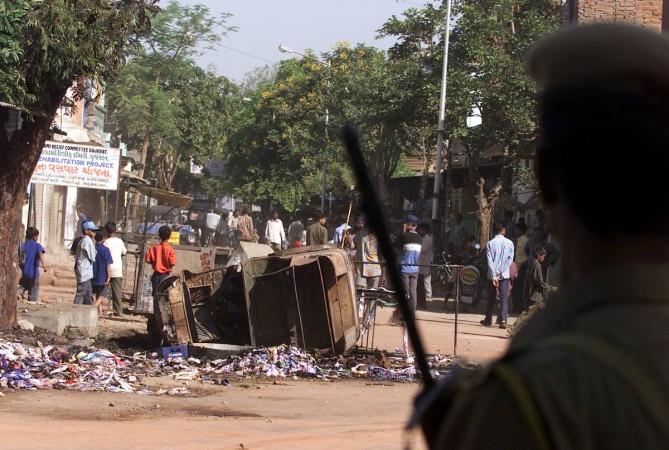 In a highly communal incident indicating increasing tensions in the state of Gujarat, a 24-year-old man died on Monday from bullet wounds he suffered during police firing in Gujarat during a clash over cow slaughter for Eid that broke out on Sunday evening in a minority dominated area of Ahmedabad.
After a crowd took to the streets of the communally sensitive Shahpur area of Ahmedabad on Sunday evening, the police resorted to firing shots, in which 24-year-old Asraf Khan sustained serious injuries reportedly from a ricocheted bullet and succumbed the next day.
"The bullet ricocheted off to hit him and he died of injuries sustained during the firing. The body has been handed over to family members," Shivanand Jha, Commissioner of Police, Ahmedabad told Business Standard.
According to reports, the police was conducting a check on the area for cow slaughtering during Bakri Eid, after it had reportedly intercepted a vehicle transporting calves in the area a day earlier. Cow slaughter is banned by law in Gujarat.
However, as the police team arrived, the community members reportedly formed a mob and pelted stones at the police as they said that they had taken steps to ensure no cows will be slaughtered.
"Whatever has happened could have been avoided. Why the crime branch policemen had to raid the areas just before Eid? We had assured the police commissioner that no cow slaughtering will happen in our localities. It was announced from mosque that cows shall not be slaughtered," Dariapur Congress MLA Gyasuddin Sheikh told Hindustan Times.
The Ahmedabad police filed two FIRs against the mob on Monday, in which it has claimed that about 'thousand people' attacked the police teams with 'stones, swords and sticks', and three police officials were injured in the clash.
According to the HT report, the FIR cited that deputy commissioner of police (crime) Himanshu Shukla and assistant commissioner of police MD Chaudhary were among those injured.
"To disperse the mob, the police had to resort to open firing and lob teargas shells. The mob had become violent and was attacking the policemen with swords, stones and other weapons," a police official told HT.
The incident comes just weeks after communal clashes had broken out in Vadodara between the Hindu and Muslim communities after controversial posts were circulated on social media. The police arrested more than 200 people involved in the riots.
The state, which was headed until recently by Prime Minister Narendra Modi, has had a grim history of communal riots, and communal tension has peaked in the last few months, especially after the Vishwa Hindu Parishad called for a ban on Muslims from garba events and a Muslim religious leader was arrested for controversial remarks about the festival of Navratri.