Muskurayega India Song: The world is trapped amid the darkness of deadly coronavirus and humankind is at risk. It has affected all the sectors of the country including, the stock market, medical services, retail sector, e-commerce sector and also, Bollywood. No film has been released since the lockdown has begun costing a fortune to the distributors. All the stars in the film fraternity have quarantined themselves and have been posting social messages to motivate the people.
In order to inspire the masses and create hope in the heart of the citizens of India. Bollywood stars have come together and launched a motivational song today, via social media platforms. The song 'Muskurayega India' was released today on the social media platforms by several stars such as Akshay Kumar, Ananya Pandey, Rajkumar Rao, Ayushmann Khuranna, Sidharth Malhotra, Kiara Advani and many more.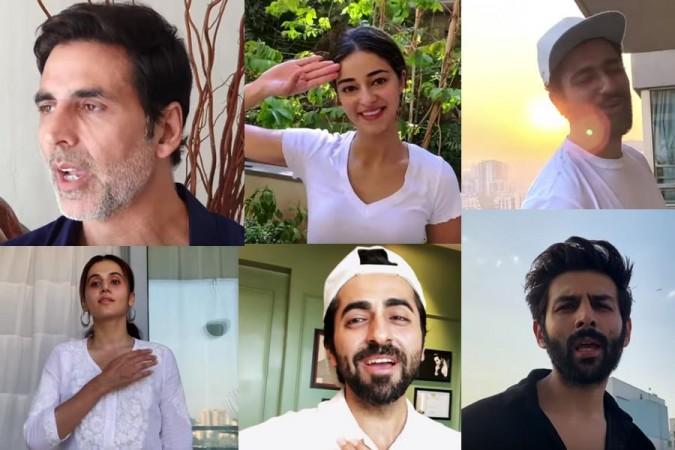 The song is aimed to inspire the masses and help them to see the brighter side at the end of the day. You can say that it's the Bollywood Desi way of saying, "We Shall Overcome, Together." It has been produced under the banner of J Just Music and Cape of Good Films and composed and sung by Vishal Mishra. Akshay Kumar took his twitter accounts a few hours before the launch to share the good news and wrote, "At a time like this when our days are clouded with uncertainty and life has come to a standstill, bringing you a song of hope. #MuskurayegaIndia song out at 6 PM today. @Jjust_Music #CapeOfGoodFilms @VishalMMishra @jackkybhagnani"
Stars like Bhumi Pednakar, Tiger Shroff, Kriti Sanon, Tapsee Pannu along with Akshay and others, recorded the videos from their houses, lip-syncing to the song written by Kaushal Kishore. Till now, fans have been pouring out love for their favourite stars in the songs. Watch the song and decide for yourself. Till then let's hope that we would be able to win the combat against this deadly virus. Stay Safe and Stay Home.