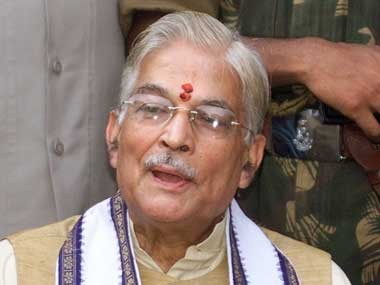 After politicians' numerous foot-in-mouth attempts at trying to find the trigger behind the increasing cases of rapes in India, a veteran BJP leader has come up with an indigenous solution to it. Former Union Minister Murli Manohar Joshi has advised people to practice yoga to help reduce cases of sexual assault in the country.
"I believe if yoga comes into the life of common people, the daily incidents of rape, I would not say they will cease to exist, but there will definitely be a marked decrease," Joshi made the remark while addressing a seminar on 'The Iyengar Way - Yoga for the New Millennium'.
"It will create a new way of thinking amongst men and women, changing the way one feels about the human body... that the body is such a machine which nature has given us for some larger work... people's attention will go towards this," PTI quoted Joshi as saying.
When making this remark on Sunday, Joshi made another statement that may have the potential to ignite a controversy. While advising people to make yoga a part of their daily routine, Joshi referred to Mulims' prayers Namaz as yoga and called Prophet Muhammad a great yogi.
"Our Muslim brothers do yoga five times in a day. The postures of 'namaz'... in that two or three postures, even you will be able to tell (which ones they are)," Joshi said.
"That is why I think Mohammad sahab was a great yogi. As this prescription is of praying to god...connecting it to yoga, he could not have done it without practising yoga," he added.
Talking about how to bring it into people's lives, Joshi said all the ministries concerning education and skill development must focus on utilising the practice. He also suggested that the Army and police should practice yoga too.
"My suggestion is that our country's Army and police should be given yoga education and practice. If policemen start doing yoga, they would be able to convince people through talks and there will be a change in their behaviour as well," he said.
He even went ahead to say that even birds, animals and pests practice yoga. "If you see carefully, in nature, animals and birds too do yoga...'mayur asan, sarp asan'...this is natural. It's not that it (yoga) is for humans alone, but animals and birds as well. It is possible that they are for pests as well... It connects us with not only humans but also animals," he said.