During the initial stages of marriage, couples often spend time together and express their feelings towards each other, but after a point of time, a small gap might form between them leaving a crack in their relationship and the sacred agreement which they made while getting married. It can lead to relationships outside the wedlock and even lead to the extreme step of divorce, which has become a trend these days.
Munthirivallikal Thalirkkumbol audience review
How to avoid such situations, how couples must love and care for each other throughout their life and a few parenting tips are narrated in Mohanlal's Malayalam family entertainer Munthirivallikal Thalirkkumbol. Many might see it as preachy, but it gives us an idea about how people love before and after marriage.
What is the movie about?
Ulahanan, also called Unnachan (Mohanlal) is a panchayat secretary, who has forgotten to smile and is least bothered about his family. Anniyamma (Meena) is his wife, who represents a majority of women in the society -- neglected by their spouses for unknown reasons. The couple has two school-going kids - Jinny (Aima Sebastian) and Jerry (Sanoop Santhosh). The only entertainment Unnachan has is the time spent drinking with his neighbours every night. After a point of time, he is tempted to get into an illicit relationship. The hurdles and how he handles the situation form the gist of the movie.
Also read: Jomonte Suviseshangal IBTimes India review
What's special about Munthirivallikal Thalirkkumbol?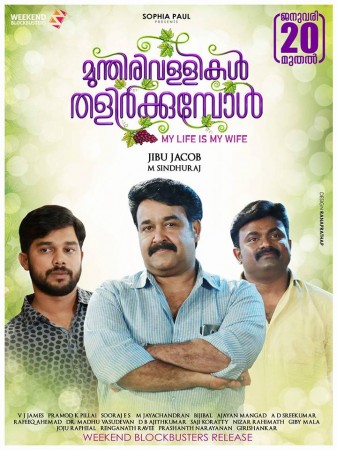 It's Mohanlal who shines throughout the movie with his charisma and natural performance. From an uninterested husband to the most lovable person, he convincingly transforms setting an example to everyone around him. It has an engaging storyline with many comedy elements that will make the audience remember the good old Malayalam movies.
Meena has delivered a notable performance in the movie, and the chemistry of the actress with Mohanlal has once again gone well after Drishyam. Anoop Menon as a casanova Venukuttan, Sharafudheen as Reji, an employee at the panchayat office and Alencier Ley as Jacobettan bring humour to the storyline that are sure to impress the audience. The movie also has Srinda Arhaan, Bindhu Panicker, Kalabhavan Shajon, Suraj Venjarumoodu, Sudheer Karamana in significant roles, and Asha Sarath makes a cameo appearance in it.
Aima, who made her debut in Nivin Pauly's Jacobinte Swargarajyam, gets more screen space in the Mohanlal-starrer and has done justice to her character. She shows how teenagers must take decisions in their life. However, the talented Sanoop gets way too less platform to perform.
Children should learn to love seeing their own parents in love."
Pramod K Pillai's cinematography is a plus point for the impressive songs of the movie composed by Bijibal and M Jayachandran.
What's wrong with it?
A small theme has being elaborated too much (for nearly three hours) with inserting corruption and a few other aspects in it. Though Jibu's debut movie Vellimoonga was a fun-filled entertainer, Munthirivallikal Thalirkkumbol has a few flaws which the makers could have avoided if it was made bit crispier.
Neha Saxena's character Julie brings a change in the life of Unnachan, but the way she fades away from the movie could have been done in a better way. The Marivillu song, which showed the not-so-good situations in the life of Unnachan and family, came all of a sudden.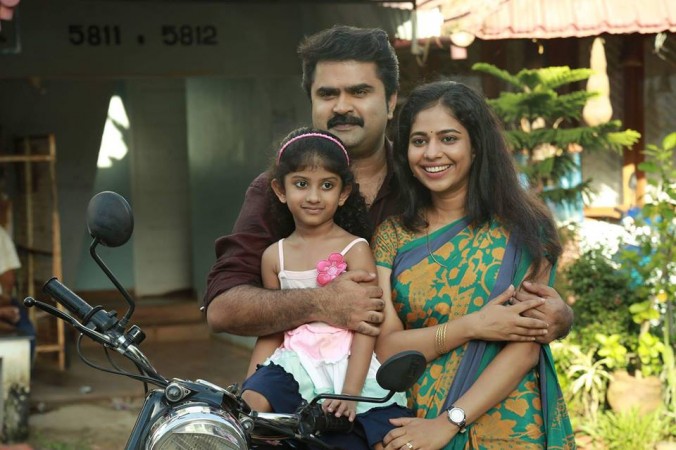 Final Verdict
The movie gives us a few tips on how to save the marriage and on parenting -- what to and what not to do to make your kids safe and independent in making crucial decisions in life. It would be better if you watch the film with your spouse to get an idea on what most couples are facing these days. You can easily relate to the movie as these gaps happen in the life of a majority of couples. Despite having a few flaws in the whole pack of Munthirivallikal Thalirkkumbol, Mohanlal and Meena hold the movie well and make it a watchable family entertainer. Their chemistry is something that keeps the movie engaging throughout. And yes, the second half justifies the movie's tagline "My life is my wife" - as Unnachan loves his Aamy too much!!!!
Munthitivallikal Thalirkkumbol will make you fall in love with your spouse all over again...!!!!