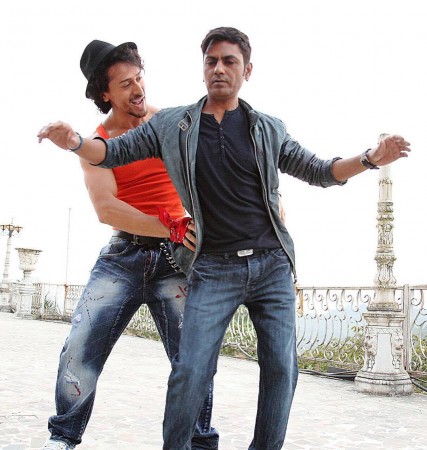 Tiger Shroff's Munna Michael is set to release in theatres on Friday, July 21, has opened to mixed reviews from Bollywood critics.
While a large section of critics said that the dance film was interesting and lauded the impeccable dance moves of Tiger and Nawazuddin Siddiqui's brilliant performance, others didn't find the story impressive enough. Some also said that its a treat to watch both Tiger and Nawazuddin trying to match up to the King of Pop.
Tiger Shroff's rumoured girfriend Disha Patani bonds with Munna Michael star's sister Krishna [PHOTOS]
Munna Michael has been creating a huge buzz as it has Tiger in the lead role who will showcase some never-seen-before dance moves of his in the movie. The trailer and songs including the peppy number Ding Dang have been liked by many.
The film revolves around Munna, played by Tiger, who is an admirer of Michael Jackson. Nawazuddin plays the role of a gangster, Mahinder Fauji, who aspires to be a dancer.
This is Tiger and director Sabbir Khan's third after Baaghi and Heropanti. Produced by Viki Rajani and Eros International, Munna Michael marks the acting debut of Nidhhi Agerwal. It is clashing with Konkona Sensharma and Ratna Pathak's Lipstick Under My Burkha at the box office.
Check out the Bollywood critics review of Munna Michael:
Lokesh Dharmani of Masala.com said: "Tiger Shroff is earnest, dances well but needs to break his fixed deposit with Sabbir Khan that's lending him no returns at all. He has done four films so far, three of which come from the same director who has depth of a saucer. I feel sorry for the newcomer Nidhhi Agerwal who gets such a shabby film to start her career with.
What's frustrating is Nawazuddin's presence in such insipid films. It's like directors use him to justify the mediocrity they churn out in name of movies. After Freaky Ali, Te3n and Raees, Munna Michael shows once again how we let one of the finest actors of our country down, by making him ham time and again to gain a few stupid laughs. Dear Nawaz, you don't need to prove you are a great actor. You just need to choose wise buddy."
Meena Iyer of the Times of India said: "With Tiger around, filmmakers normally do not bother finding a script. Instead they just coast along joining the dots of a routine story with neatly-choreographed songs and fights at regular intervals. Nawaz continues to be a revelation in each film. Here he adds a new dimension to his terribly mean, horribly funny routine, making you chuckle.
Well, if you're in the mood to get rid of the monsoon blues with the foot-tapping ding dang, ding dang ditty, you should get introduced to Munna Michael; he's not making breaking any new ground, but his moves are certainly infectious."
Saibal Chatterjee of NDTV said: "Munna Michael is only for fans of Tiger Shroff. The film follows a simple formula: Tiger dances when he isn't fighting and he fights when he isn't dancing. All ye that haven't yet figured out what he is about, stay out of the way. You aren't likely to go home humming and dancing after watching this one."
Rohit Vats of Hindustan Times said: "MJ should live forever, MJ will live forever, but this isn't the right tribute to the moonwalking King Of Pop. This forgettable 138-minute film can be better described as this one-liner somebody whispered in the dark right before the end credits: Ye sab alag hi zone me hain (They're in a different zone)."
Zee News said: "Overall, the film has good production values and is definitely not the apt tribute to Michael Jackson as suggested by the Director. Tiger Shroff though talented in dancing and parkour, fails to impress with emotions which are often mismatched with the scene. That's because the script is perfunctorily crafted, and the discomfort on his visage is clearly visible.Nidhi Agerwal in her maiden oeuvre is fairly competent."