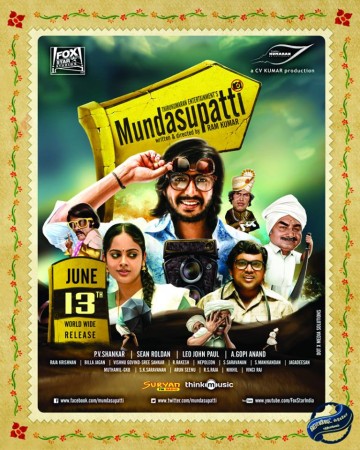 Vishnu Vishal and Nandita's "Mundasupatti" has received positive reviews from critics.
"Mundasupatti", directed by newcomer Ram, is a retro comedy drama based on the director's short film. The story is set in the 80s and revolves around a village named "Mundasupatti," where photography is strictly prohibited. Villagers believe that taking photos reduces their life span and leads to an early death. The reason for their belief is told as a prelude in the film.
Gopi (Vishnu) along with his assistant photographer Alagumani (Kali Venkat) runs a photo studio called Hollywood Studio in Sathyamangalam. One day, the duo set out to take group photos in a school where Gopi meets Kalaivani (Nandita) and falls in love with her. But to his disappointment, Kalaivani discontinues from the school.
Gopi gets an assignment from Mundasupatti. The villagers follow a tradition, where those people who are alive don't get clicked while the dead ones are photogrpahed before being cremated. Gopi and Alagumani set out to the village to take a snap of the dead village headman. However, they get entangled in a problem. How will they come out of the problem? Will Gopi and Nandita unite?
Critics have given positive feedback about the film, terming it as a fun-filled entertainer. They have appreciated the performances of the main actors including Vishnu, Kali Venkat and Ramadoss who appears in the role of aspiring actor Muneeshkanth.
"Mundasupatti has the perfect casting. Vishnu is at ease doing a full length comedy and his smile is infectious, while Nandita is fab in the coy village girl role. But the two guys who steal the show is Kaali as hero's side -kick and Ramdoss as the guy who wants to be a star. Even the person who plays the fraudulent village priest is apt. They bring humour and provide some howlarious moments," said Sify.
Director Ram Kumar has won accolades for coming out with an interesting story. "Ram Kumar's story is an out-of-the-box take on something that all of us almost take for granted in our hands – camera," said Indiaglitz.
"It is hard to imagine and think back that in a time not too long ago, cameras were considered luxury and it required special talent and patience to operate one, despite there being hardly any options as much as there are now. But the director has managed to establish such strong appeal to the audience that we almost live those days when camera was a rarity even to be seen. He has coordinated the entire team to convincing perfection," the website stated.
Critics have also heaped praises on the technical aspects of the film. "Cinematography by PV Shankar is poetic and each frame in the film looks beautiful, his lens captured the Mundasupatti village and the 80's in the most authenticate way. Another major strength of the movie is Sean Roldon's songs and BGM which gels well with the movie; especially his work in the background score deserves applause," said Rajasekar S of Cinemalead.
On the flip side, the film's run time is too long and could have been trimmed. Despite the drawback, "Mundasupatti" comes out as a complete entertainer.
"Mundasupatti could have used some trimming as it gets slightly tedious at times but the feeling while coming out, is one of satisfaction. This debut offering from director Ram Kumar has turned out to be a worthy product from the CV Kumar - Fox Star Studios camp," said Behindwoods Review Board.
Verdict: Thorough Entertainer; Watchable