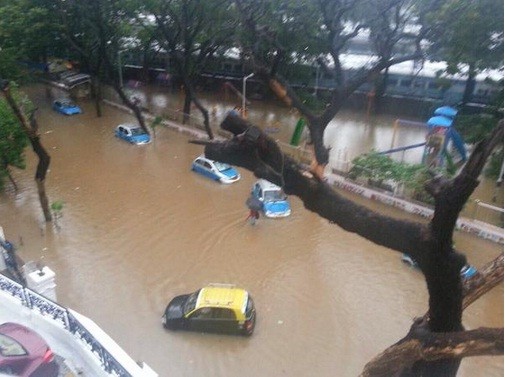 Mumbai came to a standstill after heavy rains flooded streets, hit train services and kept people indoors on Friday.
The Central Railway (CR) and Western Railway (WR) suspended train operations and advised people to travel only if necessary, while schools were shut following the downpour.
The Brihanmumbai Municipal Corporation advised Mumbaiites to stay indoors for the day, as the weather was expected to get worse with a high tide predicted for Friday afternoon.
Flights at the Mumbai Airport were also delayed due to the weather, according to reports.
As most of Mumbai remained under water, Mumbaiites put up photos on social media sites to show how the city looked like, in a chilling reminder of the 2005 deluge.
Here are some Twitter posts and photos on #MumbaiRains -
#MumbaiRains Not Venice but Chunabhatti Railway Station "allegedly". pic.twitter.com/zMrxlk5OX9

— Anirban Roy (@AnirbanFromRLF) June 19, 2015
#MumbaiRains water entered in houses in low line areas due to heavy rain. A Parel family struggling water logging. pic.twitter.com/wtzk5OL2Bb — Vijay Kumar Yadav (@vijaykumar1927) June 19, 2015
Heavy rainfall paralyses #MumbaiRains pic.twitter.com/DaqgG8F75k

— akshay (@akshay10adep) June 19, 2015
@CattyBriggs #MumbaiRains on my way to office today pic.twitter.com/UbrenINS4O — Tony Guzzler (@GuzzlerTony) June 19, 2015
Several of the buildings in the background have essentially disappeared. #MumbaiRains pic.twitter.com/GOC9oFKmdx

— Rupa Subramanya (@rupasubramanya) June 19, 2015
Ohhh 60mm Rains in Mumbai? scary images #MumbaiRains #MumbaiMonsoon Wish every one ll be safe pic.twitter.com/I9tLXSJYGQ — G Sriniwasa Kumar (@SKNonline) June 19, 2015
Look familiar? This is South Avenue Santacruz West! Making my #MumbaiRains #MonsoonPlaylist #SaavnSocial, fave songs? pic.twitter.com/Fb4SpR9xYb

— MissMalini (@MissMalini) June 19, 2015