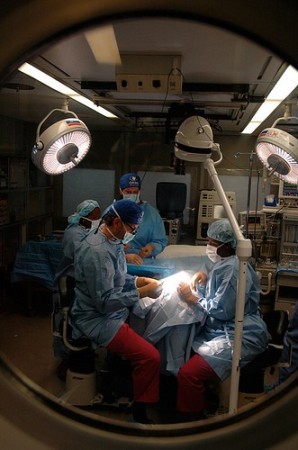 A 33-year-old woman contracted a deadly bacterial infection from a caesarean procedure which she underwent at a hospital in Mumbai.
Vaishali Sawant contracted Methicillin Resistant Staphylococcus Aureus (MRSA) while giving birth to her son, at the Cama and Albless Hospital in CST on 17 October, The Times of India reported.
She has already undergone five surgeries within one month to treat the life threatening condition, DNA reported.
Vaishali had started exhibiting health problems and discomforts shortly after giving birth. "Ever since the delivery, she complained of nausea, vomiting, back ache and fever. Pus was oozing out of her stomach incessantly," Vaishali's husband Sandeep told DNA.
The woman was soon rushed back to the operation theatre and doctors performed a surgery to remove a piece of catheter, a small and thin tube used in epidural, from her spinal cord. The surgery was soon followed by three other surgeries on her back and abdomen. Enraged by the unexplained multiple surgeries, Sandeep, who is employed with a cable connection service provider, shifted his wife to Gokuldas Tejpal Hospital in CST, where Vaishali underwent a plastic surgery. "All her lower abdominal skin was debrided and a tissue flap from the left thigh was sutured on," Dr N Paikrao, deputy superintendent at GT Hospital, told DNA.
Vaishali has been kept in a separate room in the hospital and will take a few more weeks to get discharged.
The Cama hospital authorities blamed the woman's low immunity system for making the situation worse. "Her low immunity has landed her in this condition," Dr Rajashree Katke, superintendent at the Cama hospital, told DNA.
The incident has sparked criticism from different parts of the city. Dr Om Shrivastava, director of the infectious diseases department at the Jaslok Hospital in South Mumbai, pointed to the unhygienic environment in the hospital as one of the factors that caused the infection. "It is apparent that sterilization techniques in the hospital are not up to the mark. It is a hospital-acquired infection as MRSA bacterium breeds in linens, pillows, hospital equipment, curtains, garments worn by care providers. Complete surface sanitation is necessary to eliminate MRSA bacteria," he said.
In most cases, hospitals or diagnosis centres are sources of Methicillin Resistant Staphylococcus Aureus (MRSA) infection. Treating this condition often becomes challenging as the strain of staph bacteria that causes the deadly disease is resistant to antibiotics. The bacteria can cause skin infection, pneumonia, surgical site infections and bloodstream infections.