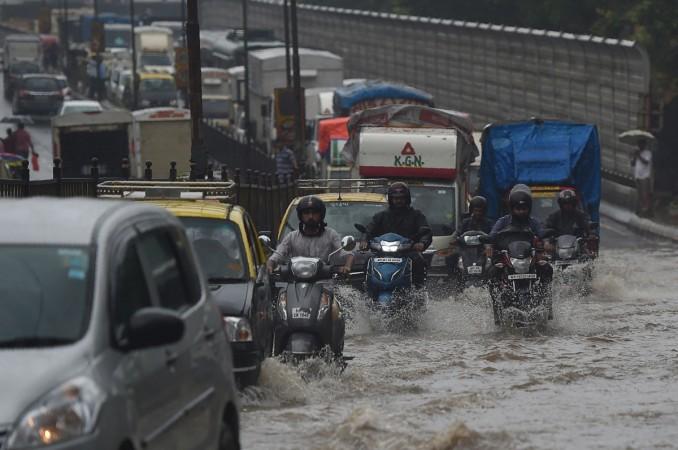 The normal life got disrupted in Mumbai as rains continue in several parts of the city on Sunday, July 8. The heavy downpour had also affected the Central Railway line as several train services have been temporarily shut down or delayed.
Citizens have braced themselves for the showers after the Meteorological Department predicted that there could be heavy to very heavy rainfall in parts of Mumbai, Thane, and Palghar from Sunday to Wednesday.
Live Updates
2018-07-0812:08 (IST)
Weekend plans take a hit
Mumbaikars had to cancel their weekend plans due to the heavy rains. Interestingly, the weekends and Mumbai rains seem to be in sync as this is not the first time that a heavy downpour was witnessed on Saturday and Sunday.
Even last month, there were several occasions when the city came to a standstill due to the heavy showers either on a Saturday or a Sunday, Skymet Weather reported.
2018-07-0812:00 (IST)
Traffic snarls after heavy showers
Traffic snarls were witnessed in several areas of Mumbai after the heavy rains led to water-logging. The areas include Milan Subway in Andheri, Hindmata in Parel, Kings Circle in Sion and the National college area.
2018-07-0811:54 (IST)
Safety measures beefed up near beach areas
The Mumbai fire brigade department issued a statement on the security measures taken at all the six beaches in the city. This comes just days after four boys were feared drowned at the Juhu beach.
The statement reads:
"Despite warnings, people venture into the sea and endanger life. My appeal to the public at large is to be aware of the danger and take all warnings issued seriously."
2018-07-0811:49 (IST)
Mumbai Police issues traffic advisory
The official Twitter handle of the Mumbai Police tweeted: "Gokhale Bridge has been opened (North Bound) for traffic only for Light Motor Vehicles to travel in both directions. Heavy vehicles can either use the Milan Flyover, Vile Parle OR Thakre flyover, Jogeshwari."
2018-07-0811:10 (IST)
Over 100 people rescued from Vasai waterfalls
Nearly 100 people were rescued safely from Chinchoti waterfall in Palghar's Vasai on Saturday. The 19-member National Disaster Response Force (NDRF) team rescued the picnickers safely from the treacherous waterfall. However, the exact number of picnickers present at the spot is yet to be ascertained.
2018-07-0811:04 (IST)
IMD predicts heavy rainfall
The everyday life of Mumbaikars could be affected as the Indian Meteorological Department (IMD) predicted heavy to very heavy rainfall from Sunday to Wednesday.
2018-07-0810:56 (IST)
Waterlogging disrupts local train services
The Mumbai local trains on the Central and Western Railway line were disrupted due to the waterlogging on Saturday.
A mega block has been scheduled on Sunday between 10.30 am to 4 pm along the Vidyavihar and Byculla stations on Central Railways line and between Santa Cruz and Goregaon stations on Western Railways.