Heavy rains lashed Mumbai on Tuesday, bringing the city to a standstill again. The rains caused water-logging in several areas, which led to traffic snarls in various parts of the city.
Mumbai was pounded with heavy rainfall at around 1 pm, and within a period of seven hours, the Colaba observatory recorded 142 mm of rainfall, while the Santa Cruz observatory recorded 136.5mm of rains till 8.30 pm, according to DNA.
Schools shut
Maharashtra State Education Minister Vinod Tawde announced that all schools in the city would remain shut, considering the high tide prediction by the weather-monitoring authorities.
Just now,the State Gov has declared a holiday in schools tomorrow for safety of students, irrespective of weather conditions #mumbairains

— Mumbai Police (@MumbaiPolice) September 19, 2017
Here are the live updates of train schedules, airports, traffic jams caused by the rains:
13:15 PM IST: Video of a crowded train station, due to delay in train schedules.
12:40 PM IST: Still of a water-clogged railway track in Mumbai
12:20 PM IST: Bombay High Court assures advocates no harm will be caused to their matters if they don't turn up, considering the heavy rains.
12:00 PM IST: BMC's disaster helpline has received 138 tree fall complaints from all over Mumbai in the past 24 hours with the highest coming from western suburbs.
11:35 AM IST: Visuals from Gateway of India; high tide is expected to hit in few minutes.
11:00 AM IST: Six International flights have been diverted from Mumbai to Delhi as the main runway at Mumbai airport is closed.
10:20 AM IST: "Rainfall will decrease, but light to moderate rainfall to continue in Mumbai region," says Ajay Kumar, Scientist IMD Mumbai.
"We have removed warning for heavy rainfall but intermittent rainfall likely over city and suburbs for next 48 hours."
10:08 AM IST: President Ram Nath Kovind tweets on Mumbai rains, says: "Thoughts with families in rain-hit Mumbai, parts of Maharashtra & western India."
Thoughts with families in rain-hit Mumbai, parts of Maharashtra & western India. Govt & civil society must work together #PresidentKovind

— President of India (@rashtrapatibhvn) September 20, 2017
9:50 AM IST: Mumbai airport spokesperson says: "Experiencing heavy rainfall and bad tail winds at CSIA. Flights taking off and landing from secondary runway as main runway is closed."
9:40 AM IST: At least 13 Mumbai-Delhi flights delayed and 15 cancelled.
9:20 AM IST: Many flights from Delhi-Mumbai cancelled/delayed due to bad weather and SpiceJet flight incident at Mumbai airport.
9:00 AM IST: "Mumbai city recorded 210 mm rainfall, suburb recorded 303 mm rainfall and Dahanu near Mumbai recorded 304 mm rainfall," KS Hosalikar, DDG IMD says.
"This has been recorded in the past 24 hours, till 8:30 am. Warnings continue today but situation is improving, keeping a close watch," Hosalikar added.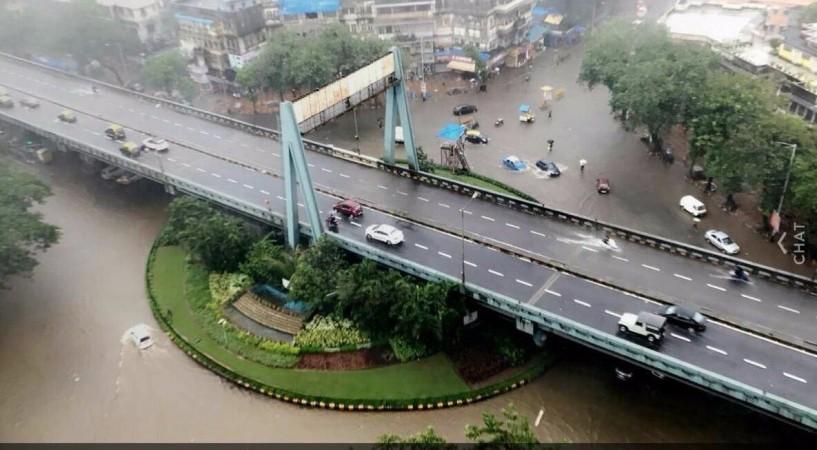 8:40 AM IST: Although the main runway of Mumbai international airport remains closed, a shorter, secondary Runway 14 is in use. However, because of strong tailwind, landings and departures are slow.
8:25 AM IST: Operations underway to take out the aircraft that got stuck in mud at Chhatrapati Shivaji International Airport late on Tuesday. It overshot runway on landing at Mumbai airport and got stuck in mud.
8:10 AM IST: No dabba service in the city today.
"Won't be working today, no Dabba delivery by Mumbai Dabbawalas due to Mumbai rains," Subhash Talekar, Mumbai Dabbawala Association, spokesperson said.
8:00 AM IST: Five Western Railways trains cancelled; six trains cancelled and two diverted on Central Railways.
7:45 AM IST: High tides are expected at 12:00 PM and 6:00 PM today.
Reports state that the western suburbs of the city received about 79 mm of rainfall later on Tuesday, with predictions of more rainfall for Wednesday.

Chhatrapati Shivaji International Airport affected
The Chhatrapati Shivaji International Airport (CSIA) was the worst hit in the rains after a SpiceJet aircraft SG 703 (Varanasi-Mumbai) overshot the runway on landing and got stuck in mud.
Airport officials said that chutes were immediately deployed and emergency services were activated when the incident occurred. However, no fire or smoke was detected and all flights at the International Airport were kept on hold. At least seven flights have been cancelled, and 56 flights have been diverted.
Reports state that flights coming to Mumbai were cancelled late Tuesday night as the airfield was shut due to stalled aircraft. There were attempts made to operate Runway 14, however they subsequently failed due to gusting tailwinds of up to 20 knots.
The main runway of the airport remains closed. A second runway is operating at the moment.
Indian Meteorological Department (IMD) officials have said that Mumbai may witness heavy rains on Wednesday too, along with gusty winds. The officials said that the bouts of rains were because of an active weather system along the Arabian Sea.
Colleges shut
Maharashtra government has also announced a precautionary holiday for all the colleges in Metropolitan Region keeping the safety of the students in mind.
A precautionary holiday has also been announced for the colleges in Mumbai Metropolitan Region by the State Government #mumbairains

— Mumbai Police (@MumbaiPolice) September 19, 2017
The incessant rains have caused water-logging in at least five areas including Andheri Subway, Hindmata, Mithibai junction on SV Road in Vile Parle, Milan Subway in Santa Cruz, and on Veera Desai Road.
Reports state that a part of MHADA building in Kamathipura in the Nagpada area also collapsed. No casualties have been reported yet.