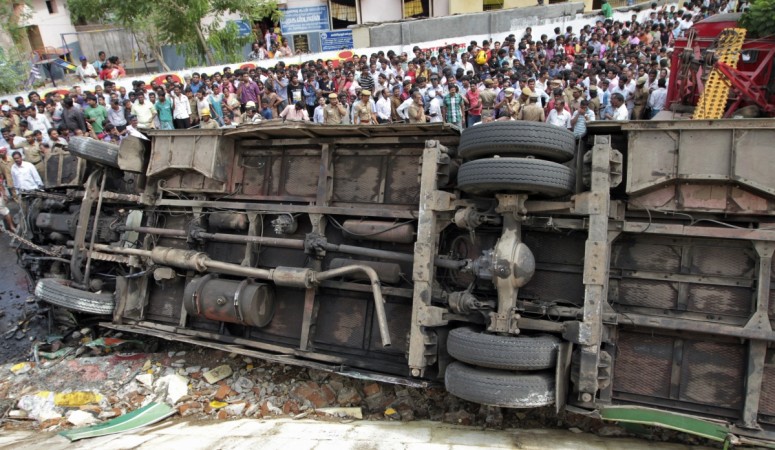 Update: 11:26 a.m. IST — The police said the driver lost control and hit the cars despite his attempts to steer away, according to an Indian Express report.
Update: 11:16 a.m. IST — The number of people injured in the Mumbai-Pune Expressway accident has reached nearly 40, the Indian Express reports.
Original Story —
At least 17 people — 13 men, four women and a six-month-old baby — were killed and 35 injured when a luxury bus collided with two cars on the Satara side of the Mumbai-Pune Expressway at 5:30 a.m. on Sunday.
The bus reportedly fell into a 20-foot ditch to the left of the road after the collision, ANI reports.
Initial reports said the driver of a Swift car had parked his vehicle by the side of the road to change a punctured tyre and an Innova driver had stopped his vehicle nearby to help him.
The accident occurred in Navi Mumbai when the bus coming from Satara collided with the cars, according to an Indian Express report.
The injured have been rushed to the MGM hospital Kamothe and Ashtavinayak hospital.
There were five accidents in the expressway in the past month alone. While casualties were reported in four of them, the lastest one disrupted traffic with no reported casualties.
Panvel (Raigad , Maharashtra): Spot visuals of Mumbai-Pune expressway accident that killed 17 people. pic.twitter.com/au4WwkRGsu

— ANI (@ANI_news) June 5, 2016
The accident near Panvel on Mumbai-Pune Expressway is tragic. Deeply pained over the loss of lives & injuries.
/1

— Devendra Fadnavis (@Dev_Fadnavis) June 5, 2016