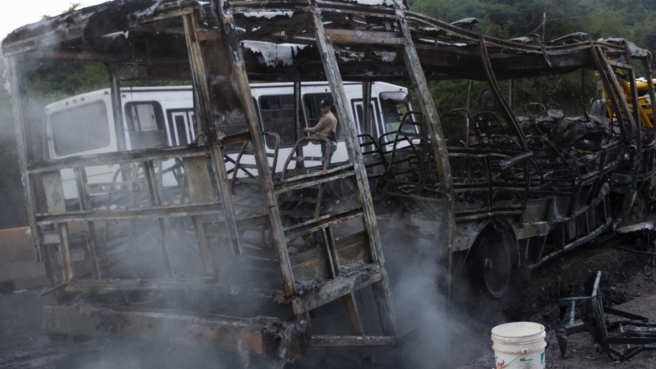 Two people were charred to death when a tempo dashed into a stationary tourist bus on the Mumbai-Pune Expressway in the wee hours of Thursday, reported Times of India.
The accident took place near the Talegaon Toll Plaza on the Mumbai-Pune Expressway at around 3 am. The tourist bus, carrying 35 passengers, was travelling from Mumbai to Bangalore. The bus had some technical problems, which forced the driver to park the vehicle on the sideways near the Talegaon toll plaza.
A speeding tempo had apparently dashed into the bus and both the vehicles caught fire in the collision. Two people - the tempo's driver and cleaner - were charred to death in the incident. However, passengers from tourist bus were safe as they had alighted from the vehicle to get some fresh air.
Fire brigade officials rushed to the spot to control the blaze, which took two hours for them to bring the fire under control.
The police recovered the charred remains of the two victims who died in the accident. Their identities are yet to be ascertained as the tempo had been burnt badly making it tough for th cops to identify the number plate of the vehicle.
"All the bus passengers had safely managed to evacuate the vehicle after the accident. The registration number plate of the tempo have also been burnt badly; so investigation is on to find out the identities of the two deceased persons in the tempo," a police official told TOI.
Talegaon police are probing into the matter. The accident brought the traffic on the Mumbai-Pune Expressway to a standstill for two hours.