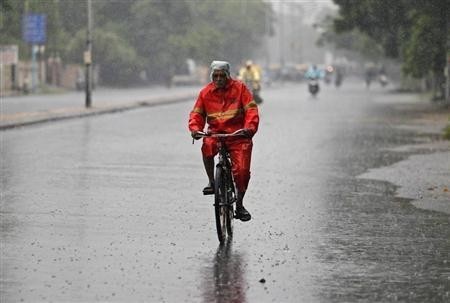 The municipal corporation body of Mumbai has advised citizens to stay home as the city braces for heavy rainfall over the next two days. Downpours are expected due to a high tide at 1.27 pm today.
"Heavy to very heavy rainfall will occur at many places in Konkan, central Maharashtra and Marathwada. Similarly, Mumbai will experience heavy to very heavy rains in the next 72 hours," Met department's Mumbai director V.K. Rajeev told IANs.
Heavy rains mean a 7-14 cm downpour and very heavy rains imply 14-25 cm rainfall within a 24-hour rain cycle. The capital city of Maharashtra has already received more than 17 cms rainfall as it has been raining since the last 24 hours.
The Meteorological Department has warned fishermen against venturing out to sea as 4.95-metre high waves are expected.
Private offices and schools are also advised to remain shut for the next 48 hours. Disaster management units of various municipal bodies and districts in Maharashtra have been alerted by weather officials.
The city that never sleeps was stuck in hours-long traffic jams on Tuesday due to the heavy rains. The Brihanmumbai Municipal Corporation (BMC) has warned of water-logging in Central Mumbai. Many flights and trains were delayed by hours, even the local trains were delayed by 30-40 minutes.
Additional Metropolitan Commissioner SVR Srinivas told NDTV on Tuesday, "Today it rained heavily; there was not a single inch of water. For the next three days I have asked my men to be on alert and have asked to them do as much cleaning of drains as possible. As for road maintenance, we will do it at night."
Meanwhile, the BMC denied it had sent SMS warnings about Mumbai bracing for the heaviest rains of the year.
In case of emergency during the rains, the BMC disaster management cell can be reached by dialing 108 or 101. For complaints, people can call the helpline number 1916.