After a delay of almost two-and-half years, the first route of monorail services in Mumbai will officially start its operations beginning Sunday. Maharashtra's Chief Minister Prithviraj Chavan will formally inaugurate the monorail on February 1 but the services will be opened for public only from Sunday.
The new addition in the public transport starting Sunday, will make Mumbai the first city in India to use a monorail. The 8.8 km monorail line will connect Wadala in Central Mumbai with Chembur in suburban Mumbai.
Malaysian infrastructure company Scomi in a joint venture with L&T executed the Rs 3,000-crore project. The Mumbai Metropolitan Region Development Authority (MMRDA) was the lead project developer.
Mumbai Mono Rail
Phase 1: The 8.8 km Chembur-Wadala route covers seven stations - Wadala depot, Mysore colony, Bhakti Park, Bharat Petroleum, V.N. Purav Marg, Fertiliser Colony, and Chembur. This line will be operation from 2 February.
Phase 2: The 11.2 km Wadala-Jacob Circle route covers 11 stations - Chinchpokli, Chembur Naka, Wadala Bridge, Mint Colony, Acharya Atre Nagar, Antop Hill, Wadala, GTB Nagar, Fertilizer Company and Bharat Petroleum. The second phase between Wadala and Jacob Circle is scheduled for completion in mid-2015.
Timeline of the Mumbai Monorail
18 August 2008

: Vilasrao Deshmukh, the then Chief Minister of Maharashtra, passed the order to build the Mumbai Monorail.

11 November 2008

: Larsen and Toubro, along with Malaysian partner Scomi, was announced as the winner of the tender. Two consortia, namely Bombardier Transportation / Reliance Energy / Hitachi Monorail, and Larsen and Toubro / Scomi Rail were short-listed. Also Larsen and Toubro, along with Scomi, received an INR 24.6 billion (US$ 380 million) contract to build and operate the monorail until 2029.

9 February 2009

: Construction of Mumbai Monorail started along the Chembur - Wadala - Jacob Circle route.

26 January 2010

: A 108-meter test run was successfully conducted.

18 February 2012

: The first test-run of about 1km was carried out from its yard in Wadala to Bhakti Park station.

10-12 December 2013

: Successful trial of Wadala-Chembur route.

1 February 2014

: Chief Minister Prithviraj Chavan inaugurates Mumbai Monorail.

2 February 2014

: Mumbai Monorail opens for public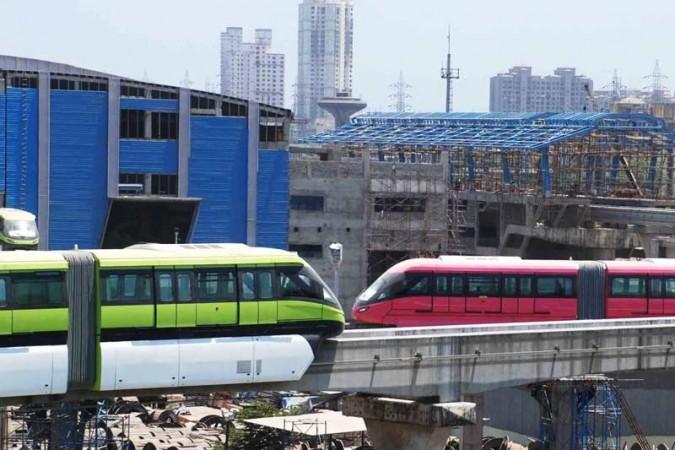 Things to know about Mumbai Monorail
The Fare will range between ₹5 to ₹19.

Maximum speed: 80 kilometres per hour (50 mph)

Average speed: 65 kilometres per hour (40 mph)

Each four-car train can accommodate 568 commuters.

Timings: 7:00 a.m. to 3:00 p.m. for the initial weeks, which will be later changed to 5:00 a.m. to 12 midnight.

7,400 passengers are expected to use the monorail during peak hours.

1.25 lakh passengers are expected to commute via the monorail every day.

Monorail Map