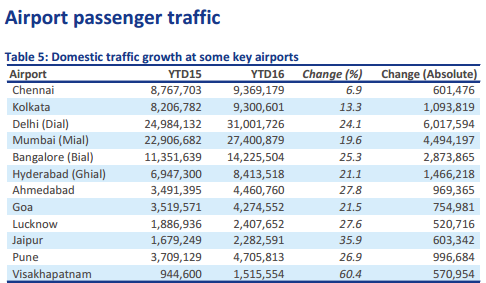 Four private international airports in India recorded a volume growth in the range of 19 to 25 percent during financial year 2015-16 in the domestic passenger segment. The highest growth was 25.3 percent at Bengaluru (Bangalore) airport, while Mumbai airport volume grew 19.6 percent, according to financial services research firm Edelweiss Securities, based on data sourced from state-owned Airports Authority of India (AAI).
While the GMR Group owns and manages Delhi and Hyderabad airports, the Mumbai and Bengaluru airports are owned and run by the GVK Group.
Bengaluru International Airport Limited (BIAL) handled 14.23 million domestic passengers during 2015-16, as compared to 11.35 million in 2014-15, up 25.3 percent.
The GVK Group has 43 percent stake in BIAL, while 26 percent of the equity is held by the AAI and the Karnataka State Industrial Investment & Development Corporation. The remaining stake is with private promoters, according to the Group's website.
Mumbai International Airport Limited (MIAL) saw domestic passenger volumes grow 19.6 percent to 27.4 million in 2015-16 from 22.90 million in the previous year, Edelweiss Securities said in a note. The GVK Group has 74 percent stake in MIAL with the rest held by the AAI.
Delhi Airport International Limited (DIAL) saw domestic passenger volumes grow 24.1 percent to 31 million in 2015-16 from 24.98 million in the preceding financial year.
DIAL is a consortium between the GMR Group that has 54 percent stake and AAI with 26 percent stake, apart from two other stakeholders -- Fraport AG & Eraman Malaysia -- who hold 10 percent each in the venture, according to GMR Group website.
GMR Hyderabad International Airport Limited (GHIAL) posted a 21.1 percent growth in domestic passenger volume to 8.41 million during the year from 6.94 million in the financial year ended March 31, 2015.
GHIAL is a joint venture between the GMR Group that holds 63 percent equity stake, along with the Indian government (13 percent stake), Andhra Pradesh government (13 percent stake) and Malaysia Airports Holdings Berhad, which holds the rest of the equity (11 percent).
Kolkata and Chennai airports, run by the AAI, handled a combined passenger volume of about 18.60 million during the year, marking a growth of 13.3 percent and 6.9 percent, respectively, said Edelweiss Securities.