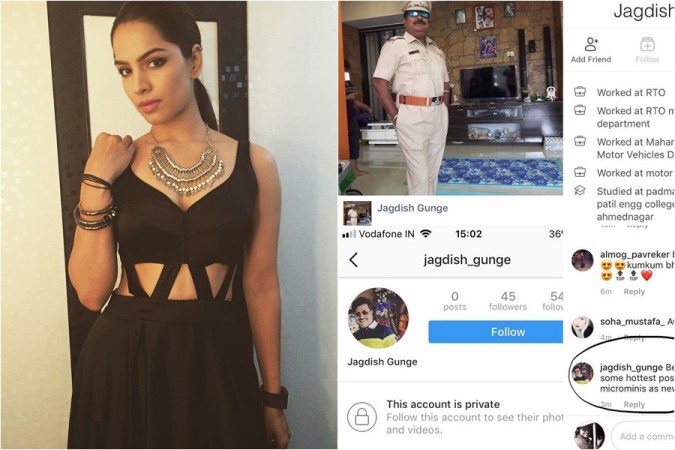 Social media sure gives everybody a platform to express themselves but on the downside, it doesn't prevent people from making indecent remarks. Taking advantage of this boundless freedom, offenders think they can rub people the wrong way and still get off scot-free.
However, this time the offender turned out to be a man in a cop's uniform -- Jagdish Gunge's social media profile says he works at the RTO. Gunge made some lewd remarks on Kumkum Bhagya actress Shikha Singh on Instagram. He commented: "Beautiful. Pl upload some hottest poses with bikini or microminis as new year gift."
But Shikha did not let him go away easily. She instead put up a brave front to expose the uniformed officer who wished to see her in bikinis and micro minis. Gunge lives in Thane, as per his Facebook account.
The actress did not hesitate to track him down on social media to reveal his identity in public. She took screenshots of his Facebook account, profile picture, bio and the comment (which he posted on one of her photos on Instagram).
In an attempt to expose Gunge's 'sick' mentality, Shikha posted the screenshots on her Instagram and wrote, "Just bcos a person doesn't put hands at you, that doesn't mean they aren't abusive. Abuse is Control, Blatant disrespect, and also hurtful words. You can't get away easy Mr. Jagdish Gunge !! Shame on you!!"
Soon, the netizens started pouring in support for her and condemned the cop's actions calling it disgusting. One of the users demanded that the policeman should be suspended from duties for not respecting his uniform.
Another user who seemed to be a foreigner wrote, "I have given up on my travel idea because of these kinds of negativities that I have recently heard about your country India. If your police are acting against their own people like this he will be more shameless against tourists."
And there were many who lauded the actress for calling his name out on social media.