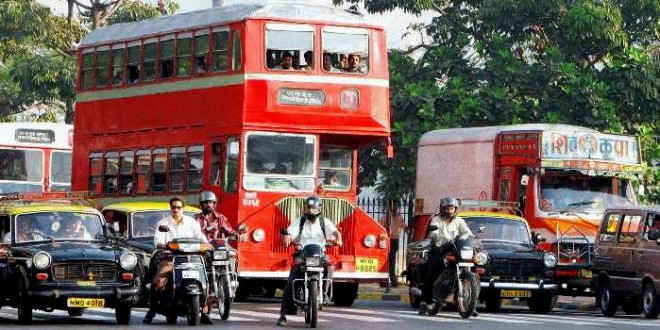 The Brihanmumbai Electricity Supply and Transport (BEST) Undertaking seem to be planning the unthinkable: reduce the minimum bus fare to boost income, after almost 10 years. The move is being seen as a tactical response to the competition offered by cab-hailing services that are gaining popularity across metros such as Mumbai.
Mumbai's public transport and electricity provider could reduce the fare from the current Rs. 8 to Rs. 6 for up to 2 km, ahead of elections to the city civic body, Brihanmumbai Municipal Corporation (BMC), due in February.
The loss-making company could decide on fare reduction within 30 days, according to BEST committee chairman Mohan Mitbaokar, who also happens to be a BJP corporator, Mumbai Mirror reported.
BEST was taken over by the BMC in 1947.
The last fare reduction was in 2005, of Re. 1, the publication quoted a former BEST committee member, Ravi Raja, as saying.
The proposed move comes within 15 days of BEST reducing fares on a newly-introduced distance slab of 8 km. The Rs. 2 cut became effectively from July 1, according to an update by the company. The slash in fare was up to 50 percent for air-conditioned buses.
The tweaking in slabs and reduction in fare paid off in terms of higher business, with passenger traffic increasing by about 22,000 commuters between July 1 and 10, the daily reported.
Between April and June, the number of commuters travelling via BEST buses was limited to 26,83,345. After the change in slabs, it climbed to 27,06,110, between July 1and July 10.
The company earned an income of Rs. 1,585 crore from its transport services in 2015-16, up from Rs. 1,509.65 crore in the previous year. Its deficit from this business rose to Rs. 1,057.84 crore in 2015-16 from Rs. 858.02 crore in the preceding year, according to its financial statements.
For the current fiscal, BEST intends to earn Rs. 1,796.68 crore, leaving a deficit of Rs. 930 crore, according to its budget estimates.
The company intends to introduce a slew of measures as part of Mumbai city's revamp under the smart city initiative. The city is slated to get Rs. 100 crore under the initiative over five years and BEST wants to get a part of it to improve its infrastructure and services. The company has a fleet of 3,600 buses.
Though the reduction in fares is not expected to improve the company's financials, the BEST committee is firm on reducing the minimum fare to draw more passengers. "The reduction in the minimum fares will further help BEST in getting more passengers. We will pressure the management to accept the rollback in fares," Mumbai Mirror quoted BEST committee chairman Mohan Mitbaokar as saying.