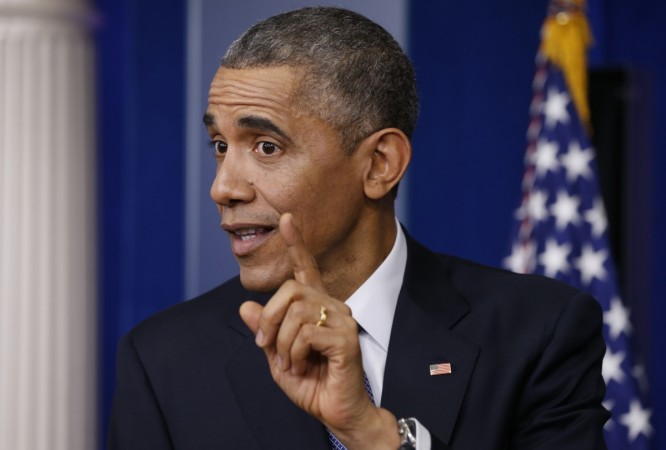 With his India visit round the corner, US President Barack Obama described the nation as a "true global" partner and sent a strong message to its neighbour Pakistan to root out terrorism from its soil.
The US president also called for the perpetrators of the 26/11 Mumbai attacks to be brought to justice, reports Zee News.
"I have made it clear that even as the US works with Pakistan to meet the threat of terrorism, safe havens within Pakistan are not acceptable and that those behind the Mumbai terrorist attack must face justice," Obama said during an interview with a leading English magazine.
"As president, I have made sure that the US has been unrelenting in its fight against terrorist groups - a fight in which Indians and Americans are united," he added.
Obama was also of the view that PM Narendra Modi's maiden visit to the US in September last year was an opportunity for him to benefit from Modi's comprehensive mandate in 2014 that imbued "new hopes and energy".
"Now, Modi's election and his commitment to a new chapter in the relationship between our countries, gives us an opportunity to further energise our partnership," he said.
"I'd like to think that the stars are aligned to finally realise the vision I outlined in (the Indian) parliament (during last visit) - India and America as true global partners. That's why I accepted the generous invitation to become the first US president to attend Republic Day as chief guest," Obama added.
"On the most basic level, a good India-US relationship has to be based on the same principles as our successful partnerships with our other close partners and friends around the world," said the US president.
"That includes mutual respect, where even as we acknowledge our different histories and traditions, we value the strengths that we each bring to our relationship. It includes recognising our mutual interests that both our countries will be more secure, and our people will have more jobs and opportunities, when we are working together," he added.
While admitting that the progress between the two countries has not been a bit on the slow side, Obama however said, "we have succeeded in deepening the US-India relationship across the board".
"Given India's strategic location, we can advance our shared security and prosperity in the Asia-Pacific. When India and the US work together, both our countries and the world are more secure and prosperous," Obama added.