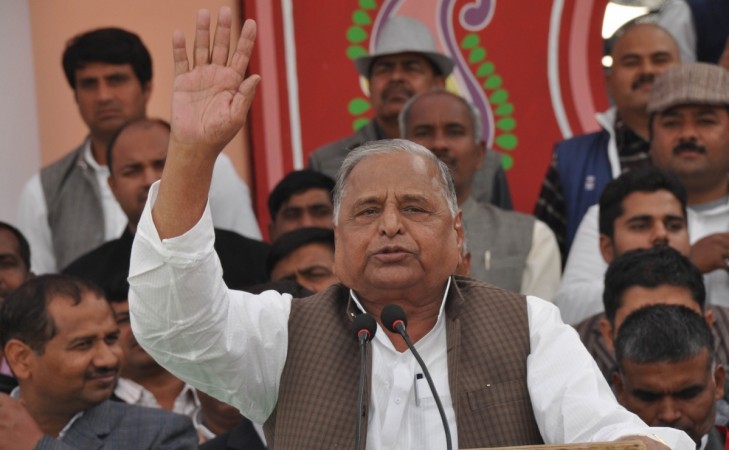 There seems to be more trouble brewing in the Yadav household in Uttar Pradesh. On Friday, Samajwadi Party supremo Mulayam Singh Yadav was asked by journalists who will decide on the next chief minister of UP. And pat came the reply from him, "SP legislature party will decide on the name of chief minister."
Family feud
Currently, Mulayam Singh Yadav's son Akhilesh Yadav is the chief minister of the state, but there has been speculation that he may not be the chief ministerial candidate in the 2017 elections. There have been reports that there in an ongoing power struggle between Shivpal Yadav, Mulayam's brother, and Akhilesh. While Akhilesh is the CM, Shivpal is a minister in the government and also the UP state chief of the Samajwadi Party.
Akhilesh no longer lives in the family home with his father and nor does he work out of the Samajwadi Party office. But Mulayam Singh has tried to put the family feud rumours to rest saying that there were no such issues. But with his latest statement comes the question of what will happen to Akhilesh in 2017. Will it be Shivpal in the driver's seat? Polls have shown that Akhilesh is more popular than his uncle, but Mulayam has also stated that he was the preferred CM choice for the people.
What next for Akhilesh?
The current UP CM has told media that he is all set to start campaigning for the elections. In a recent Times of India interview, he was asked about the family feud to which he replied, "I reiterate that Akhilesh Yadav can be cornered for the time being, but cannot be defeated. People of the state have faith in me and they will return me to power to serve them. They have realised that if I can deliver so much despite being inexperienced, as branded by the Opposition, I would take the state to newer heights in my second innings."
As of now, there has been no official split in the Samajwadi Party. If they come to an amicable decision and work out their differences, then the Samajwadi Party is expected to come back to power. But in case the differences are not sorted, then the political scenario might change in the state.
Given his confidence and unwillingness to let his father or uncle call the shots, Akhilesh might just decide to fight alone in the forthcoming elections. Then the question arises as to whether he will form an alliance with any other party, Congress perhaps.
As of now, it remains to be seen what course of action senior political stalwart Mulayalam Singh takes in the days to come. Though Akhilesh told TOI that there was no family feud, Mulayam's recent statement has sparked off rumours once again.