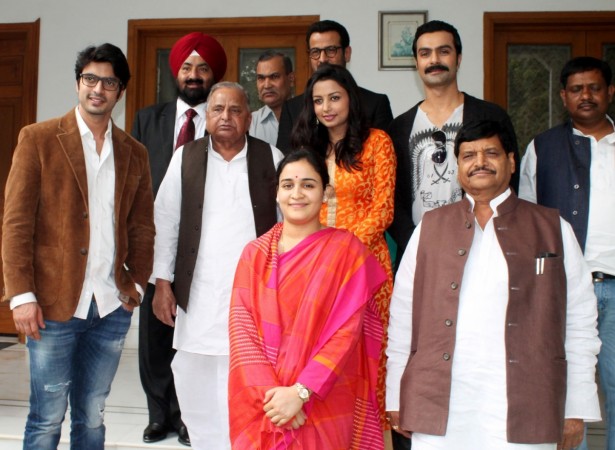 The cast of Dongri Ka Raja including actors Ashmit Patel, Ronit Roy, Gashmeer Mahajani, Reecha Sinha recently visited Lucknow, Uttar Pradesh, to promote their film where they met Samajwadi Party leaders and showed the trailer and a few songs of the film.
Party supremo Mulayam Singh Yadav, his daughter-in-law Aparna Yadav and party president Shivpal Yadav seemed to be impressed by the trailer and have decided to watch the film. In fact, this is after a long time that the political leaders will be watching a film.
"Both the SP leaders sensed the hard work that has gone in the film. It was humbling to hear them say that while they don't usually get time to watch films, this is one film they would really want to watch. They found the trailer very intriguing," the spokesperson of the film said in a statement.
"When you get a response like that just with a glimpse of a film, it gives immense happiness. The producer and the cast were thrilled with the response from the party leaders," the spokesperson added.
Talking to mediapersons, Shivpal Singh Yadav said that he was pleasantly surprised by the trailer of the film. "Dongri Ka Raja seems like a very interesting film. I am totally intrigued by it and would definitely take out time to watch it. As it is, it has been a while since a saw a movie," Yadav added.
Dongri Ka Raja is a passionate love story set against the backdrop of the underworld. The trailer has been garnering positive response from the audience. Ronit, who has portrayed characters with grey shades in the past, has proved himself to be a superb performer with Dongri Ka Raja. Dongri Ka Raja, produced by PS Chhatwal, will hit the theatres on Friday, November 11.