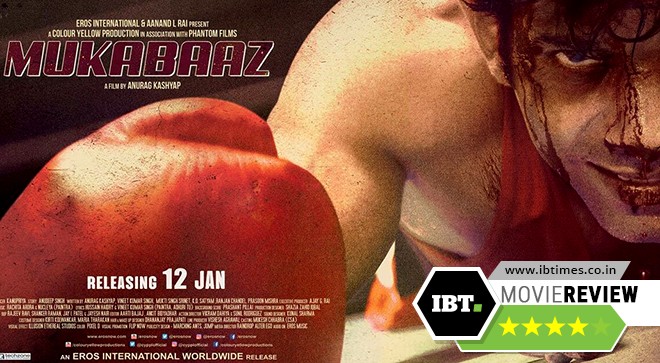 Rating: 4
Cast – Vineet Kumar Singh, Zoya Hussain, Jimmy Shergill and Ravi Kishan
Director – Anurag Kashyap
Genre – Sports Drama
Storyline
Roman Polanski famously said: "Cinema should make you forget you are sitting in a theatre." Anurag Kashyap has taken that advice to the dot with his 156-minute sports drama Mukkabaaz.
Kashyap has pulled off a Polanski himself, giving the main roles to Vineet Kumar Singh and Zoya Hussain -- both of whom are playing lead roles for the first time, and they did not disappoint.
Though the movie does take a leaf out of the much-featured struggle of an underdog, it manages to steer clear of nationalistic fervency and flag-waving.
Set in Bareilly in Uttar Pradesh, this love story revolves around a boxer named Shravan Singh (Vineet Kumar Singh) and his speech-impaired love interest Sunaina (Zoya Hussain). Shravan's boxing career takes a turn for the worse after he falls out with his coach (Jimmy Shergill), who is also Sunaina's uncle and does everything in his power to keep him from making a career in boxing.
Shravan's struggle throws light on social stigmas present in Uttar Pradesh – caste discrimination, corruption, cow-vigilantism and the ugly side of politics. The only respite Shravan finds is in his new coach (Ravi Kishan), who supports him through the turmoil.
The story's highlight is the love and romance between Zoya and Shravan, and how they manage to overcome the hurdles and win against the conservative antagonist Jimmy Shergill.
Performances
Vineet Kumar Singh's performance is as good as it gets. He emotes anger and love in such a seamless manner that you get engulfed by it.
Zoya Hussain may not have any dialogues, but her eyes do the talking, and there are times you can feel her scream. Not one to hold back from a fight, she knows how to defend herself.
Through their phenomenal performance, they make you forget you are in an alternate world -- that it is all happening on the screen.
Positives
Ravi Kishan, who plays a Dalit coach to Shravan Singh, is the surprise package. His natural acting takes the sheen away from Vineet Kumar at times. The other supporting roles are played by Sadhna Singh (Sunaina's mother) and Rajesh Tailang (Shravan's father), and they do justice to the plot and add to the acting finesse of the movie.
The background scores tell you what's coming in the next scene well before it happens, much like the Rains of Castamere in the Game Of Thrones TV series.
The movie has an amazing connection with Ranveer Singh and Deepika Padukone. No, I am not giving out any spoiler! Vineet Singh's kick-ass humour definitely reminded us of Rajkummar Rao's honest and natural comic timing.
The film focuses on serious issues in our society but the jokes will leave you in splits, coming not just from Vineet but Jimmy Shergill, Zoya Hussain and her mother (played by Sudhana Singh) as well!
A special appearance by Nawazuddin Siddiqui in the film is worth a whistle, too!
Negatives
A huge portion of the second half is filled with Shravan's struggles, which could be a dampener. The film loses its crispness there and could have used some cuts.
Verdict
A gripping story that does what cinema should do – give a sharp reflection of reality. The year couldn't have started better.