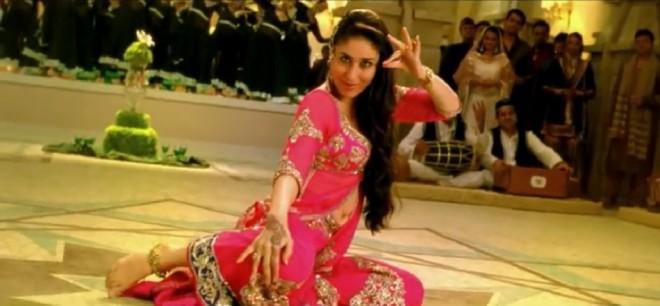 It seems that once popular dance form in Bollywood, mujra, is revisiting the industry again. In recent times, in some of the Bollywood films, mujra performed by various actresses.
The early 1970s and 1980s, it was associated with actresses Meena Kumari and Rekha for their mujra numbers, especially in their films "Pakeezah" and "Umrao Jan," respectively.
However, actresses Aishwarya Rai Bachchan and Madhuri Dixit followed in their path and rendered remarkable mujra numbers in their films, "Umrao Jan" (2006) and "Devdas."
Very recently, in a bid to popularize the dance form which was popular during the eary days of Bollywood films, actress Kareena Kapoor adapted it into modern fashion and performed a sensational mujra number in "Agent Vinod" which was released on March 23, 2012.
Speaking about her mujra number in "Agent Vinod," Kareena said "Mujra has its own charm which comes from the music and the shayari. My favourite mujra is Rekha's Salaam-e-Ishq from Muqaddar Ka Sikander. I feel lucky that I got a chance to even try out something like that," CNN IBN Live quoted.
Here are some of the popular mujra dances from Bollywood films.
Kareena Kapoor in "Dil Mera Muft Ka" from "Agent Vinod"

Madhuri Dixit's one of the best dance performance "Maar Daala" from "Devdas"

Meena Kumari in "Inho Logon Ne" from "Pakeezah". The song is one of the most famous and memorable mujras number by actress Meena Kumari.

"In Aankhon Ki Masti" from "Umrao Jaan"(1981) is a remarkable mujra performance by Rekha

"Dil Cheez Kya Hai" which was sung by Asha Bhosle is another notable mujra number performed by Rekha in "Umrao Jan"

Aishwarya Rai Bachchan's first mujra number "Salam" from from the new "Umrao Jan" (2006)

Rekha in "Salam-E-IShq Meri Jaan" from "Muqaddar Ka Sikandar"

One of the evergreen number performed by actress Madhubala "Pyar Kiya To Darna Kya" from "Mughal-E-Azam"

Rani Mukherjee's first mujra number in "Main Vari Vari" from "Mangal Pandey"