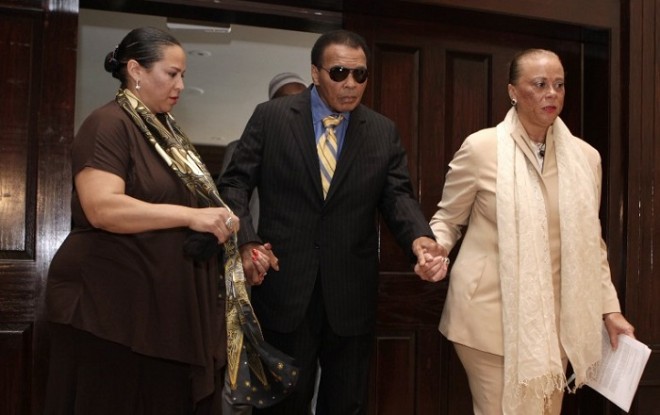 The spokesman for Muhammad Ali tried to calm down reports which suggested that the legendary boxer's family are "preparing for the worst". Ali was hospitalised in Phoenix on Thursday owing to respiratory problems.
Radaronline published a report on Friday, with a source suggesting that the condition of Ali, who has been suffering from Parkinson's disease for several decades now, was a lot graver than perhaps first thought, when news of his hospitalisation trickled through.
"Ali is in dire straits and is rapidly deteriorating," a source told. "His breathing has become very shallow, requiring tubes.
"Shallow breathing does not bring enough oxygen into your body. "And this exacerbates a number of unfavourable things, including, in his advanced case, fatigue and constipation.
"The latter is a large intestine issue that negatively impacts the lungs & the skin. Ali no longer feels the touch on the surface of his skin, mosquito bites, or cuts, etc. due to his age. And this is a degenerative situation that can't be reversed."
The report further went on to say, citing that same source, that even if Ali survives his latest problem, he might end up in a vegetative state. "The family feels that even if he somehow survives this setback, he'll be left in a vegetative state," the source added. "He can't stand due to stiffness in the legs. Before this incident, he would sometimes freeze upon standing, like his feet are stuck to the ground. Now he cannot even do that.
"Doctors fear he's in the early stages of dementia. Or possibly beyond that. The family has gathered around him and is prepared for the worst."
Ali, 74, has had several trips to the hospital in the recent past for various ailments, and with the Associated Press also reporting Ali's condition was serious, the boxing legend's spokesman Bob Gunnel was forced to try and play down all the speculation, saying every time Ali was in the hospital, it triggered a "media frenzy."