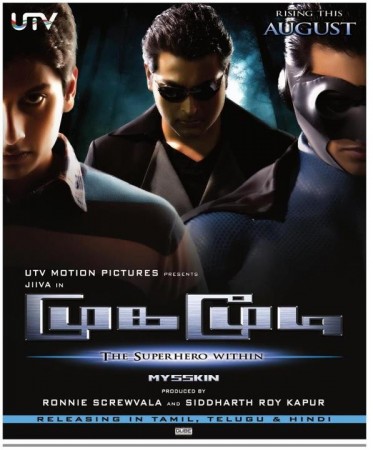 Director Mysskin's magnum opus "Mugamoodi" was expected to measure up to the great expectations of audiences, given that it is the first Tamil film to have a superhero as its protagonist.
The Hollywood film industry has been obsessed with the superhero concepts for ages, with western film makers said to have mastered the art of crafting several stocky characters like Batman, Superman and Spider-Man. This western superhero-fetish is slowly moving into the subcontinent as well.
But as far as the Indian film industry is concerned, the concept of incorporating characters with extraordinary powers in films is still in its infancy.
Western film makers have drilled some of the standard merits of such superheroes into the minds of Indian audiences, and drawing a comparison between Hollywood superheroes with Mysskin's is inevitable.
A unique and spectacular presentation is what it takes to strike the right cord with movies based on superheroes. What "Mugamoodi" lacks is the fast-paced narrations and breath-taking action sequences.
The "Mugamoodi" character is neither armed with arsenals like Batman's nor is he is born with super-natural powers like Superman. He is an ordinary person who eventually begins to fight the evils of society with his skills in martial art.
The film's core concept is Kung Fu and the film maker has dedicated the movie to martial art legend Bruce Lee.
The movie takes off with a group of well-trained bandits who break into an affluent bungalow to rob valuables and slaughter those asleep. This was not the maiden burglary by the bandits; they have done this for many years in different parts of the country.
Anand, played by Jiiva aka Bruce Lee, is a Kung Fu kid. He's a jobless youngster and most despised by his father, who always yells at him for his devil-may-care attitude. The protagonist has high regards for his master Sifu Chandru played by Selvaah.
Anand falls in love with Pooja Hegde's character Shakthi, the daughter of top cop Gaurav, who is played by actor Nassar. However, she forms a wrong impression about him owing to the circumstances. In a bid to make her fall for him, Anand dons a Superman-type costume and tries to impress her while hiding his face behind the mask
He introduces himself as Mugamoodi, oblivious of the surprises ahead. That night turned out to be eventful for him, as he gets invited into a police pursuit to tail the escaping bandits.
At the end of the pursuit, Mugamoodi manages to catch one of two bandits and hand them over to police, eventually becoming a superhero.
Overnight, Mugamoodi becomes the most-hated person in the crime circle but is most-loved among the police department.
Miffed by Mugamoodi's heroism, the head of 'Dragon' organised crime family, Anguchamy, played by Narain, decides to retaliate. Thus the game of death between these two extraordinary characters begins and what happens further forms the rest of the story.
In his mission to fight city crimes, Anand is assisted by several supporting characters including Girish Karnad, who plays his grandfather. Karnad's character reminds one of Batman's Lucius Fox, who helps design a superhero-themed costume and mask.
The film draws genuine laughs in some scenes. The characters, including Mugamoodi, fail to leave a lasting impression though. On individual performances Jiiva scores full marks, especially in the fight scenes.
Since the film is claimed to be based on Kung Fu martial art, the film maker appeared to have taken extra efforts to ensure that action sequences doesn't go off-key throughout the movie, from the stance to kicks, which appeared to be flawless.
In his own style, Mysskin has tried to narrate a superhero story, which unfortunately lacks the spectacle that is very much needed for such a genre. The movie may serve the interests of South Indian fans, should it not be compared with Hollywood superhero flicks.
The film maker could have worked several improvements for "Mugamoodi". Overall, the film is ambitious but sort of imperfect to fit the superhero concept. However, it indeed deserves a onetime watch.
Director: Mysskin
Star cast: Jiiva, Pooja Hegde, Narain, Girish Karnad, Nassar