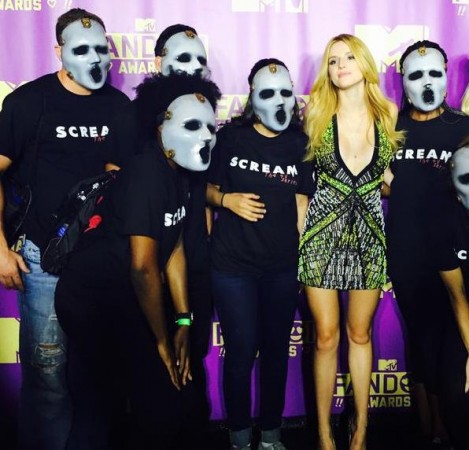 MTV's freshman series "Scream" is growing in popularity with each passing episode and the fans crowding at their panel at San Diego Comic Con is plenty proof for that. Some of it definitely has to do with the close adherence to the "Scream" movie series, especially in terms of their episode titles which are reminiscent of popular catchphrases from the movies.
After episode 2 "Hello, Emma", which aired on Tuesday, 7 July, "Scream" episode 3 "Wanna Play a Game?" will be aired on 14 July at 9pm (EST) on MTV. Episode 2 had ended with the killer calling Emma (Willa Fitzgerald) and claming, "I know that everyone you trust is lying to you, playing you… Your two-faced friends, your fraud of a family, your w**re of a mother. It started with her, Emma … but it'll end with you. See you soon."
With episode 3, Emma completely believes that the killer's claim that her Margaret (Tracy Middendorf) is keeping secrets from her is true. Her scandalous history with the serial murderer Brandon James will be brought to attention, after Rachel's (Sosie Bacon) dead body is discovered.
With the murder of Rachel, three deaths have occurred in "Scream", including decapitation of Tyler and the throat-cutting of Nina. However, Bella Thorne's Nina may return to the series according to the panel discussions at Comic Con; albeit only in the flashbacks. "More mean, and less dead!" said Thorne of her return on "Scream", at the panel.
Watch out for season 1 episode 3 of "Scream" on MTV at 9pm (EST) on 14 July, or stream the videos on MTV's website or on Hulu.