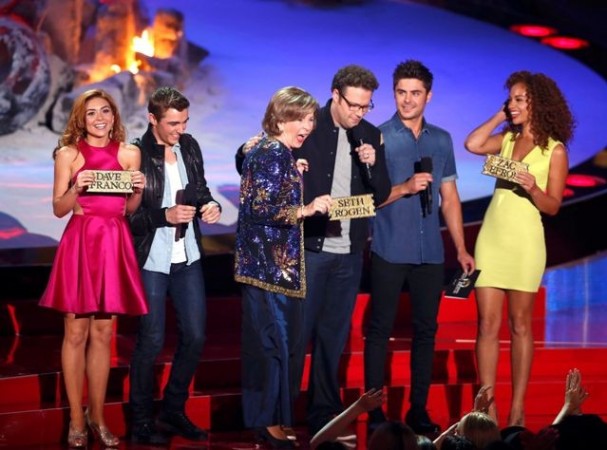 The MTV Video Awards 2014 were announced on Sunday with some major names winning the golden popcorn-shaped trophies. The awards ceremony held on Sunday at Nokia Theatre in Los Angeles was hosted by talk show host Conan O'Brien.
The honours ranged from the usual 'Best Movie' and 'Best Actor' to some funny categories like 'Best Scared-As-S**t Performance' and 'Best Gut-Wrenching Performance'.
While the successful series "The Hunger Games: Catching Fire" took home major awards, Oscar Winner Jared Leto won "Best On-Screen Transformation" for "Dallas Buyers Club."
A special tribute was paid to late actor Paul Walker, who died in a car crash last year, as his "Fast and Furious" co-star Vin Diesel appeared in a video message speaking fondly of the actor.
Unseen clips from Marvel's "X-Men: Days of Future Past" and "The Amazing Spiderman 2" along with "The Fault in Our Stars" were also showcased during the show.
Here the complete winner's List of MTV Movie Awards 2014:
Movie of the Year- The Hunger Games: Catching Fire
Best Female Performance- Jennifer Lawrence (The Hunger Games: Catching Fire)
Best Male Performance- Josh Hutcherson (The Hunger Games: Catching Fire)
Breakthrough Performance- Will Poulter (We're the Millers)
Best Kiss- Emma Roberts, Jennifer Aniston and Will Poulter (We're the Millers)
Best Fight- The Hobbit: The Desolation of Smaug (Orlando Bloom and Evangeline Lilly vs.Orcs)
Best Comedic Performance- Jonah Hill (The Wolf of Wall Street)
Best Scared-As-S**T Performance- Brad Pitt (World War Z)
Best Shirtless Performance: Zac Efron (That Awkward Moment)
#WTF Moment- Leonardo DiCaprio (The Wolf of Wall Street)
Best Villain- Mila Kunis (Oz The Great and Powerful)
Best On-Screen Transformation- Jared Leto (Dallas Buyers Club)
Best Musical Moment- Backstreet Boys, Jay Baruchel, Seth Rogen and Craig Robinson (This is the End)
Best Cameo- Rihanna (This is the End)
Best Hero- Henry Cavil as Clark Kent (Man of Steel)
Trailblazer Award- Channing Tatum
Generation Award- Mark Wahlberg
(ED/VS)