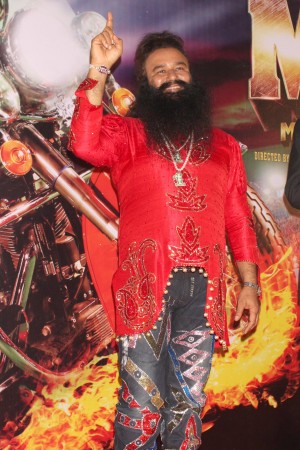 Police and security agencies in Punjab and Haryana were put on alert on Friday after protests against Dera Sacha Sauda sect leader Gurmeet Ram Rahim's debut movie "MSG - The Messenger of God".
The movie's high profile premiere, scheduled to be held in Gurgaon on Friday, was postponed till Sunday even as the sect authorities claimed they had received the formal letter of approval for release of the film.
Protests against the film were witnessed at some places in Haryana and Punjab on Friday.
Police officials in both states said security agencies were put on alert.
In Punjab, additional security forces were stationed in Amritsar, Bathinda and other places. Sikh organisations and leaders, including the ruling Shiromani Akali Dal, are opposed to the sect and its leader.
Authorities in Haryana put security forces on alert in Sirsa district, where the sect has its headquarters near Sirsa town (275 km from Chandigarh), Gurgaon and some other places.
Police detained scores of Indian National Students' Organisation activists in Gurgaon as they were protesting against the film.
The producers of the Dera Sacha Sauda chief starrer "MSG - The Messenger of God" claimed on Friday that they have got the required permission from the censor board for the movie's release.
Dera Sacha Sauda's spokesman Pawan Insan told IANS that they received the formal letter of approval from the Central Board of Film Certification (CBFC) on Friday.
He added that the film premiere will be held on Sunday and that the film will be released soon.
MSG was earlier scheduled to be released on Friday (16 Jan) but did not get the CBFC approval in time.
The film had run into trouble this week with the CBFC refusing to give it clearance for release and referring the case to the Film Certification Appellate Tribunal (FCAT). The FCAT approved the release of the film.
This led to CBFC chairperson Leela Samson resigning from the post Thursday night.
Sect leader Gurmeet Ram Rahim told media in Gurgaon on Friday that there was nothing objectionable in MSG.
He said he did not want to comment about the controversy around the censor board refusing to give clearance to the film and the resignation of Samson.
"There is a move to stop the release of the film. I have no knowledge on why the censor board objected to the film," the sect leader said.
He said the film carried a message against social evils like alcoholism, prostitution and drugs and promoted good causes like blood donation and doing voluntary work.
Watch the trailer of the film below: